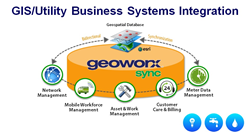 GIS is a powerful, yet often underutilized enterprise technology that can deliver operational results immediately, especially when integrated with a variety of a utility's enterprise systems
ANN ARBOR, Michigan (PRWEB) December 15, 2014
GeoNexus Technologies, specializing in the integration of Geographic Information Systems (GIS) with Utility Business Systems, has announced the debut of its GeoWorx® product suite for Ventyx Ellipse (Mincom). As a proven industry solution for Oracle Utilities and IBM Maximo EAM (Enterprise Asset Management) systems, the addition of GeoWorx Sync for Ellipse was a natural progression. GeoWorx Sync supports Ellipse 8.0 and 8.5 and versions 10.0-10.3 of the Esri GIS platform.
Historically GIS and utility systems have remained disparate, disconnected systems, yet they share a myriad of common data and support a variety of similar business processes such as work orders, service requests, dispatch, customer support, etc. Through GeoWorx software, the power of GIS and utility systems is combined to provide visual tracking and management of enterprise assets and resources, which is paramount to reliable and timely work execution and ultimately exceptional customer care, safety & regulatory compliance, and shareholder value.
GeoNexus Technologies' COTS GeoWorx products are revolutionizing how utilities think about leveraging their mature and robust GIS mapping in terms of their enterprise systems, operations and business processes. Given that GIS data is consumable by all facets of a utility organization and community, GeoWorx software solutions provide the bridge between a utility's location data and its Work & Asset Management, Customer Care & Billing, and Outage & Network Management systems, for example.
"We believe GIS is a powerful, yet often underutilized enterprise technology that can deliver operational results immediately, especially when integrated with a variety of a utility's enterprise systems," said Skip Heise, president of GeoNexus Technologies. "GeoWorx software, when combined with an EAM or OMS system, provides the ability to visualize utility assets, crews, fleet vehicles, service requests, work backlog and asset/work history. This level of pinpoint accuracy and real-time insight into a utility's infrastructure, especially for underground and linear assets, helps to ensure safe and reliable services are expeditiously delivered to the community and citizens entrusted to them. And taking it one step further into the area of data defensibility and utility governance, the integration and availability of GIS location data throughout the enterprise, including a utility's public portal, makes the GIS / Utility Business System integration proposition imperative for gas, water and electric regulatory compliance."
GeoNexus' flagship product, GeoWorx Sync, used by industry-leading utilities and municipalities throughout North America and Australia, delivers bidirectional synchronization so that data can be updated in either GIS or a utility's enterprise system, providing seamless use of common data from all systems in their native environments. Users benefit from full functionality of querying, editing, and reporting on assets, work and resource information while data is also available in GIS for thematic mapping, spatial query, and map generation. Because GeoWorx Sync insures that critical data are up-to-date in both systems, each system can operate independently if necessary. This is especially valuable if one of the systems experiences an outage.
GeoWorx Sync for Ellipse includes an easy-to-use, configurable dashboard interface for ensuring that GIS and utility business system databases are always synchronized, delivering a single consistent data inventory for reliable and timely transaction execution. For example, with Esri® ArcGIS and EAM solutions, both enterprise systems are used to manage asset and work-related information. These two systems use vastly different data models to manage asset information in their native environments. With two databases storing common enterprise data, a synchronization mechanism must exist in order to ensure the currency and accuracy of the information in both of the databases. Custom geoprocessing related to synchronization are no longer required, greatly improving overall application performance and end-user community adoptability.
GeoWorx Sync uses a "full compare" change detection model operating independently from the Ventyx Ellipse system and Esri ArcGIS to synchronize data between the two databases. This guarantees data changes made in either system are not lost during synchronization. An open architecture provides the flexibility to modify the Database Synchronization at any time; the user determines what gets synchronized and when. It can be configured for parallel processing to run at various time intervals depending on operational needs, for example daily, weekly, and on- demand. All synchronization transactions are monitored and GeoWorx Sync automatically notifies the system administrator through various alerts such as text messages, emails, and enterprise dashboard alarms if an anomaly occurs.
About GeoNexus Technologies
Founded in 2009, GeoNexus Technologies specializes in the integration of Geographic Information Systems (GIS) with utility business systems for capital-intensive organizations faced with asset, facility, fleet and infrastructure challenges. We offer a COTS product suite called GeoWorx® that includes GeoWorx Sync, GeoWorx Map, GeoWorx Sketch, and GeoWorx Mobile. GeoWorx combines visualization and geoprocessing capabilities from GIS with Enterprise Asset Management (EAM), Customer Information Systems (CIS), and Enterprise Resource Planning (ERP) solutions. GeoWorx solutions help enterprising electric, gas and water utilities address reliability, asset ROI, regulatory compliance and customer service priorities, particularly for those with large networks, distributed/linear assets and a mobile workforce. For more information, visit http://www.geo-nexus.com.