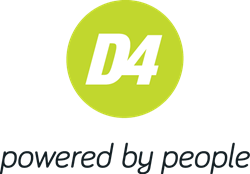 D4 is committed to offering case management by professionals who truly understand the ins and outs of all technology and software used. Tom, Chad and Katie exemplify this dedication by earning these important industry designations
Rochester, NY (PRWEB) December 17, 2014
D4, LLC, a national leader in providing managed services, litigation support and eDiscovery solutions to law firms and corporate legal departments, announced today that Tom Groom, VP and Senior Consultant, has achieved Relativity Expert status after earning four Relativity certifications administered by kCura Corporation. Additionally, two members of D4'sTechnical Advisory Group (TAG) have successfully passed multiple Relativity certification exams.
Tom Groom, Chad Jones and Katherine Peloquin are now certified as Relativity Review Specialists. In addition, Tom achieved certification as an Analytics Specialist, an exclusive designation for Relativity Certified Administrators who have extensive experience with Relativity Analytics and Relativity Assisted Review. Adding to his previous certifications of Relativity Certified Administrator and Certified Sales Professional, Tom now holds four Relativity certifications, and is therefore recognized by kCura as a Relativity Expert – a status held by only a few professionals nationwide.
The Relativity Certified Administrator (RCA) is a baseline certification that ensures case administrators fully understand Relativity's capabilities. The other exams allow individuals to validate their skills in specialty areas. D4 currently has eight individuals with RCA status.
"We are very proud of Chad, Katie and Tom for passing several portions of the Relativity certification program," said Peter Coons, SVP of D4's Professional Services Group. "We are especially proud of Tom reaching Relativity Expert Status. D4 is committed to offering case management by professionals who truly understand the ins and outs of all technology and software used. Tom, Chad and Katie exemplify this dedication by earning these important industry designations."
In addition to the above individual certifications, two of D4's data centers have recently earned Relativity Best in Service designation. For a fifth year in a row, the company's Rochester-based data center achieved kCura's Orange-level Relativity Best in Service recognition for outstanding and exceptional customer service for Relativity end users. D4's data center in Toronto, Canada has also been recognized; it has achieved kCura's Blue-level Relativity Best in Service status.
About D4, LLC
D4 is a leading national provider of electronic discovery, computer forensics and litigation support services to Am Law 200 firms and Fortune 1000 companies. D4 was one of the first providers to offer an eDiscovery Managed Services solution, which launched in 2011. D4 has been instrumental in helping customers realize up to a 70% cost reduction over previous eDiscovery solutions. The company's state-of-the-art data center operations in Rochester are complemented by electronic discovery and litigation support offices throughout the country. D4 has been recognized by Inc. Magazine as one of the fastest-growing private companies in the US for four consecutive years. Visit http://www.d4discovery.com for more information.