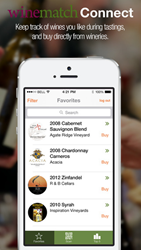 Best App for tracking the wine you like.
(PRWEB) December 15, 2014
SIMpalm, a leading mobile app development company, custom built "Winematch Connect App" for iPhone for its client, which allows users to keep track of wines they like. WineMatch is a company, specialized in finding the right wine. At the center of WineMatch is a high-technology engine that uses combined sensory, chemistry and wine information. All this information is assembled to help them create a virtual "wine fingerprint." Those wines that are close counterparts to one another are called Matches.
WineMatch Connect is a wine app specifically designed for people that attend wine events so they can keep track of the wines they like. A lot of times if someone attends a wine event, it is hard to keep track of all of the wines tasted. This app creates an electronic record so that users don't have to take written notes. It's as easy as scanning the QR codes in front of the wines. It's as easy as:
1) Download the app
2) Scan wines you like at the event
3) Rate the wine -> like it, love it, or can't live without it. If you want to buy the wine, just click the Buy button on the screen for that wine. Winery is responsible for fulfilling the wine order. No alcohol is sold with this app.
"Great job of communicating and building exactly what we wanted," said the CTO of WineMatch. SIMpalm built the app efficiently and fast. We will use them for our future projects.
About SIMpalm
SIMpalm was founded in 2009 to bring more mobility in the world. SIMpalm design, develop and deploy mobile applications and responsive web for its clients. SIMpalm provided end to end services for mobile app/web including design, development, testing and deployment. It has highly skilled iPhone, Android App Developer, iPad, HTML5 developers to build mobile apps for any industry vertical. It also builds cloud based backend for mobile apps on Parse, Amazon AWS, LAMP and Windows Azure. Not only native apps, it builds app and web using cross platform technologies like HTML5, Sencha Touch, Jquery, Titanium, Xamarin, Angular JS, Backbone JS and Appprecessor. We develop solutions for Startups, SMEs, Enterprises and Government organization. Some of its major clients include Flextronics USA, Forte Payment Systems, Bed Bath and Beyond, Blue Cross Blue Shield and Cantada.