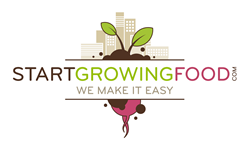 "Using technology to challenge how and where North America produces food, while re-connecting people to the food that nurtures them. Where some see buildings, we see vertically farms. Farms full of food people love and trust."
North America (PRWEB) December 16, 2014
Imagine growing, fresh, organic food, just steps from your kitchen. StartGrowingFood.com, makes that possible with the use of new interactive smart technology designed to help people grow food at home.
Even if users don't have a backyard, or any gardening experience, StartGrowingFood.com's special formula is designed to turn even a little 6-square-foot balcony into over 50 lbs of food. That's $400 worth of fresh organic food, for only $8 worth of seeds. "It's all about effective space and crop planning," says Dron, and StartGrowingFood.com's technology combines the precision of science with the resourcefulness of technology to create free customized growing plans. Plans are created using smart technology to optimize them for maximum food production and success in each users unique growing space.
"We want to challenge the way we produce food in North America, while also re-connecting people to the food that nurtures them. Where some see buildings, we see vertically farms. Farms with food people love …and trust," says Dron.
With increasing urban sprawl, society is experiencing a shift in the way people eat and live. The growing desire to eat local, organic food is increasingly challenging to meet considering the reduction of available agricultural land and increased use chemicals and genetic modification in commercial food production.
This innovative technology creates for visitors a free optimized plan designed for their personal space. It then remembers each user's plan to future support them year with optional coaching tips and reminders tailored to them, and sent right to their phone. Tips like: "Hey, we're expecting a cold front, cover your basil" or "Hi, it's time to thin your carrots. Click here for a quick how-to video"
Margaret is turning to crowd sourcing site Indiagogo, to develop a user friendly version of the technology to make it easy and fun for everyone. As she explains, "It feels right. We truly believe in the power of people coming together to help build something meaningful and that's why we're turning to the community to be a part of creating StartGrowingFood.com. Supporters will have direct contact to feature discussions so their needs can be heard. Our community is a vital part of the process and plays a huge role in building something designed to by the community, to feed the community."
To learn more, visit http://www.StartGrowingFood.com
###
About Margaret Dron: After spending a decade working for a variety of technology companies, Margaret decided to pursue her lifelong dream of entrepreneurship by launching a successful series of food and health expo's while supporting communities that connect with over 220,000 fans.
However, her history and passion for technology, sustainability, and urban agriculture all came together in early 2014 to create the base of StartGrowingFood.com. Her goal being simple, to use technology and interactive media to make urban micro farming accessible and successful for gardeners of all knowledge levels and environments.