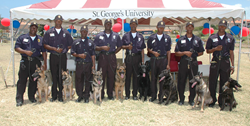 YOUR FAMILY'S SAFETY IS PRICELSS,YOUR PROPERTY IS VALUABLE
Califoria, Bentwood, Beverly Hills, Santa Monica,San Francico (PRWEB) December 17, 2014
St. George's University in Grenada, West Indies is an independent, innovative and reputable higher education institution offering a range of undergraduate and postgraduate courses in medicine, nursing, healthcare, veterinary medicine and arts and sciences. The university's size and location lends a genuine community feel. Add this to the fact that the institution is built upon a rich history of excellence and it becomes clear why the student experience is a huge draw to home and international students.
In recent years, St George's ocean side campus experienced an unprecedented expansion. Local authorities are starting to perceive this as a threat and keeping the community safe for students to be able to walk the corridors at all hours and regardless of the level of activity is no longer as easy as it used to be. This is especially true because the university offers endless hours of entertainment on campus and this include the dark hours.
To ensure the safety and security of faculty members, students and visitors, newer and stricter rules have been enforced meeting and exceeding the safety requirements of the U.S. Department of Education. The university is committed to helping students make the most of their time at St George's and this required some lateral, outside the box thinking to find ways to best upgrade overall campus security.
After considering a number of options, the university settled for an approach that combines 24 hour patrolling and the introduction of a guard dog team to augment the current security plan around campus. This led to the recruitment of eight highly trained and professional patrol officers instructed to work in a discrete but dedicated way. To complete the process, eight custom and expertly trained guard dogs were also introduced on campus.
The use of guard dogs as part of the security plan for an educational establishment is certainly a rather unorthodox approach. To make it happen, the security team in charge of the project looked at five different dog-training centers before deciding on Command Control Protection Dogs as the most promising option. CCPD, operating out of California, is at the very forefront of the local dog training industry with a solid background and track record.
Taking into account all the specific requirements and needs of the university, the CCPD dogs supplied to St. George's were expertly trained to be sociable while being a sensible and very real deterrent to crimes of opportunity. The canines were also trained to work alongside the recruited patrol officers in an endeavor to build a highly successful security team with a heavy emphasis on perimeter patrolling.
The security plan that has been in the pipeline for the past couple of months is now completed. In addition to being a unique university with an enviable student experience, St George's now also boasts a security super team. The CCPD guard dogs are doing extremely well in being visual deterrents with the right skill set and confidence to defend their charge against potential threats. Perry Ahlgrimm, the CEO of Command Control Protection Dogs, tells us that he personally designed a custom two-week intensive training course to make the eight selected dogs integrate well within St. George's campus. The dogs have now been introduced in their new environment and only require annual maintenance training.
Once again CCPD proves that as a dog-training center, it is at the very forefront of crime prevention. If it were not for the versatile training method employed in this case, perhaps the use of guard dogs within a university campus would have been a viable option on paper only. The university is also indebted to Mr. Ahlgrimm for his professionalism, objective attitude and trustworthiness in addition to his remarkable training skills.
Operating out of California, CCPD is a superior dog training center with a caring and flexible approach to the expert training of guard dogs and personal protection dogs. To learn more, visit http://www.ccprotectiondogs.com or call 647-407-2259.