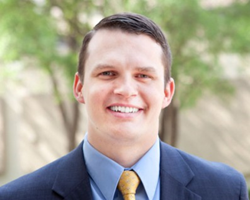 Irving, Texas (PRWEB) December 17, 2014
Goosehead Insurance has added two senior executives to its management ranks to help support continued rapid expansion. Michael Moxley has joined Goosehead Insurance's executive team as Vice President – Service Delivery. He joined the company from Transcom Global, an international BPO company, where he was Director of Service Delivery for North America and had oversight of 1,500 agents across four sites and two countries. His team delivered operational excellence and facilitated expansion of Transcom's service offerings.
Prior to Transcom, Moxley worked with Alorica, a global BPO firm, where he led client services and operations with a team of over 3,000 agents spanning six sites and three countries. During his time there, he was a key contributor to Alorica's expansion, growing their service organization by more than 30%, while sustaining high-level performance. Earlier in his career Moxley spent 10 years leading various sales and service teams within ATandT.
Mark E. Jones, Chairman and CEO of Goosehead stated, "We are delighted to welcome Michael to the Goosehead family. His expertise will be very helpful in scaling our service operations and driving continued excellence in the client experience for our insurance clientele and agency partners."
Ryan Langston has also joined Goosehead as Vice President and General Counsel from Strasburger and Price, LLP. During his years at Strasburger, Langston was a trial lawyer representing businesses and individuals in commercial litigation and arbitration. As a litigator, Langston earned several awards including Collin County Young Lawyer of the Year. His practice also included corporate and commercial law. Langston's legal knowledge and expertise will be an invaluable resource to Goosehead. He holds a Bachelor of Arts degree from Brigham Young University and a J.D. from the University of Texas School of Law.
"Ryan is a smart, dynamic lawyer with whom we've had the privilege of working for over five years. I am confident he will be a major contributor to our executive team," said Michael Colby, Goosehead's Chief Operating Officer.
Goosehead Insurance is one of the largest and fastest growing independent insurance agencies in the United States. Headquartered in Irving, Texas, Goosehead has local offices throughout Texas, as well as Virginia, California and Florida.