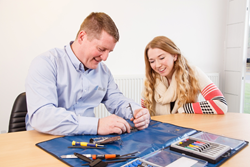 "Existing solutions can sometimes leave you without your phone for days and feeling insecure about your private data. iMend.com removes this by sending a technician out to your home, office or any location you choose to fix
UK Nationwide (PRWEB UK) 16 December 2014
Cracked screens are top of the list of faults repair technicians from iMend are called out to, with broken buttons, water damage and many other issues also dealt with. With the cost of devices increasing and manufacturer repairs often expensive or unavailable, customers often turn to phone repair shops, and may end up having to leave their phone behind to be mended.
As founder and serial tech entrepreneur Keir McConomy explains, iMend aims to provide a smarter way to get your phone fixed: "Existing mobile phone repair solutions can sometimes leave you without your phone for days and feeling insecure about your private data. iMend.com removes this issue by sending a repair technician out to your home, office or any location you choose to fix the phone securely in front of you. It also saves you the hassle of having to go out to a shop."
The company employs a network of mobile repair technicians to respond to calls across the country. John McNally, Head of Repairs, earned his stripes fixing phones for the Ministry of Defence. He commented: "We only hire the best technicians, and each one has to go through rigorous technical checks. Our customers don't pay until the repair is completed and they're 100% happy. Plus we also give a 12-month warranty to provide total peace of mind."
iMend Founder Keir McConomy is optimistic about the future: "We have good UK-wide coverage and are constantly building our team. Thousands of people have called us out already, so we know this is a service people want and need. We commonly expect a call out service for things like tyres, windscreens and IT services, so why not smartphones?"
MEDIA REVIEW CHALLENGE
The iMend.com team are happy to rise to the challenge. If you would like to review iMend we will happily fix a broken mobile phone of someone in your team/office; free of charge!