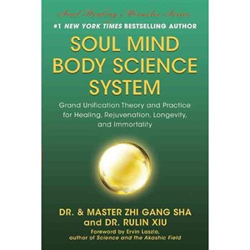 San Francisco, CA (PRWEB) December 15, 2014
Dr. and Master Zhi Gang Sha, founder of http://www.drsha.com and the New York Times bestselling author of Soul Healing Miracles is leading a Divine soul healing movement with daily gifts throughout the month of December to help individuals lead a path to enlightenment leading up to his much anticipated annual New Year's Eve Blessing. Each day, Facebook fans and Twitter followers are treated to stress reducing, inspiring, thoughtful, fun and uplifting gifts from Dr. and Master Sha to help each person prepare for the ending of 2014 and the beginning of new possibilities for 2015. To receive a daily gift, go to: https://www.facebook.com/drandmastersha
It is usually the ending of one year and the birthing of a new year when people look to change their lives and embark on self-discovery. In a time when there are so many life balance stresses from civil unrest to workplace deadlines to shopping demands to financial worries, more people are seeking harmony in these challenging times. Dr. and Master Sha's "31 Days of Gifts" invites each person to give back to and nurture their own souls, while preparing for 2015.
During the month of December, participants will be treated to gifts such as:

One sentence secrets from Dr. and Master Sha's newest bestselling book, Soul Mind Body Science System
Free Soul Healing Miracles app download
Free Webcast for understanding miracle soul healings and how to benefit from these healings
A Compassion Mantra, called the "Da Bei Zhou" sung and shared by Divine Channel Master Maya
Podcast on how to use traditional Chinese medicine as a key to healing
And so many other daily gifts
Dr. and Master Zhi Gang Sha is the world-renowned miracle soul healer. He has created thousands of soul healing miracles worldwide in the last ten years (http://www.youtube.com/zhigangsha). He is the founder of Soul Mind Body Medicine™. He was trained as a conventional medical doctor in China and a doctor of traditional Chinese medicine in China and Canada. The founder of the Institute of Soul Healing and Enlightenment™ and the Love Peace Harmony Movement™, Dr. and Master Sha is a grandmaster of many ancient disciplines, including tai chi, qigong, feng shui, and the I Ching. Master Sha is also an expert in the most advanced cellular healing science now occurring in China. In the West, he is involved in breakthrough research on the effects of spirit on the human system. Dr. Sha was named Qigong Master of the Year at the Fifth World Congress on Qigong. In 2006, he was honored with the prestigious Martin Luther King, Jr. Commemorative Commission Award for his humanitarian efforts.
An international bestselling author, Master Sha is author of ten books in the Soul Power Series published by Simon & Schuster (Atria Imprint), with each book reaching the New York Times bestselling list and four of them reaching #1. Master Sha's Soul Healing Miracles book published in 2013 by BenBella was instant bestseller on USA Today and Wall Street Journal. His newest book, Soul Mind Body Science System was published November, 2014, landing on Amazon bestseller lists within weeks.
Dr. and Master Zhi Gang Sha's Soul Healing Miracles™ Chanting Channel fosters a soul healing community to learn and use chanting and soul songs for personal, spiritual, mental and soul development, 24/7. For more information about Dr. and Master Zhi Gang Sha, visit http://www.DrSha.com.
For more information about Dr. and Master Sha or to schedule an interview, please contact: Darcie Rowan Darcie(at)DarcieRowanPR(dot)com