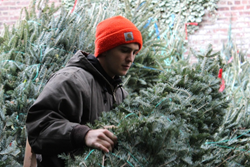 Order online and get free delivery anywhere in New York City
New York City, New York (PRWEB) December 15, 2014
While most New Yorkers scurry to find that last-minute Christmas gift, shop for food and get the house ready for the holidays, Dan Sevigny and his sister Morgan will be rushing to fulfill online orders for fresh Christmas trees delivered to the doors of New York City residents.
The Maine natives and current Brooklyn denizens are the owners of Christmas Tree NYC, a virtual Christmas tree lot that offers premium Canadian-grown Fraser Firs at affordable prices with no additional delivery charge. Customers can order their tree at https://Christmastree.nyc and schedule delivery the same day in Manhattan, Bronx, Brooklyn, Queens and Staten Island.
Prices range from $42 for the smallest, three-foot tree to $126 for a stately nine-footer. No stand? Christmas Tree NYC offers two sizes, and even features a fresh, handcrafted in Maine, evergreen centerpiece to complete the holiday ambience.
Other online tree sellers charge up to 50 percent more for a fresh tree and tack on a hefty delivery charge. Dan says his company can offer trees for less money because the business is web-based and their lot is located in Brooklyn, allowing them to pass on the savings to consumers. "Delivery is free because it should be. They (customers) have already paid for the tree, they shouldn't have to pay twice," he adds.
Some high-end Manhattan tree sellers justify their higher prices by setting the tree up in the customer's home. For convenience, Christmas Tree NYC makes a fresh cut in the tree so that it will drink plenty of water and stay fresh throughout the holidays.
But it's the quality of the trees that has brought repeat customers. "They are better trees. They are premium Fraser Firs. We shopped around to find the best growers with the best prices, visiting hundreds of places," says the native of Mount Desert Island, Maine. The siblings grew up in the heart of Acadia National Park, a place abounding in ancient spruce fir forests.
New Yorkers have always had far fewer options for buying a live evergreen compared to their family and friends in the suburbs, where fresh-cut trees can be found in big box store garden centers, nurseries, corner gas stations and high-school parking lots.
"Buying a live Christmas tree in New York City can be a painful process," says Dan. "Not only do New Yorkers have to go out in the cold to pick out a tree from a salesperson who is likely overcharging them due to their own high rent, they have to either drag the tree home by themselves or pay someone to do it for them. Not with us. We operate online and from our locations in Brooklyn, and the money we save on rent and staff we pass on to our customers. Christmas Tree NYC takes the hassle out of buying a Christmas tree in New York City. The holiday season can be stressful. People want ease, convenience and simplicity – that's what we give them."
When the tree-buying rush is over, Dan goes back to his full-time role as a marketing consultant. Morgan Sevigny owns and operates Pura Vida Urban Fitness, a personal training studio in Prospect Heights.
Christmas Tree NYC sells and delivers premium Fraser Fir trees, stands and centerpieces to customers in Manhattan and the boroughs at prices up to 50 percent below competitors. The site accepts major credit cards and PayPal. Orders may be placed at https://Christmastree.nyc until December 23rd. Deliveries are scheduled from 9 a.m. to 9 p.m. daily (with time slots every three hours). Customers must be home to take delivery.
The offices of Christmas Tree NYC are located at 202 Rivington Street New York, NY 10002 and their phone number is (339) 927-2196.