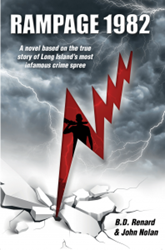 That night, and the subsequent hunt for the criminals, became the focus of national headlines.
LONG BEACH, N.Y. –
(PRWEB) December 15, 2014 -- Three decades after Long Island's most infamous crime spree the public remains fascinated – and repulsed – by the details of the atrocities committed in that suburban community. Drawing on their own connections to the case, authors J.F. Nolan and B.D. Renard tell the story of the crime and search for the perpetrators in this new book based on a true story, adding their own imagined tale about what could have happened if someone decided the legal system's justice wasn't enough punishment.
In "Rampage 1982," the authors relay what happened on Memorial Day weekend May 28-29, 1982, in a quiet diner that became the setting of intimidation, violence and sadism. A Brooklyn gang of thugs known at the Belmont Avenue Boys, who hailed from a no-man's-land neighborhood, decided to take whatever they wanted from that diner, robbing, terrorizing, assaulting, raping and forcing victims to have sex with each other and other horrible acts. The night left more than 100 victims physically or emotionally devastated. That night, and the subsequent hunt for the criminals, became the focus of national headlines.
Although the men responsible were eventually caught and sentenced to 3,000 years in prison, a technicality in New York's sentencing laws meant the criminals got out in just 30 years – the first in June 2012. It is at this point that the book turns into a novel starring a man who discovers the truth of his conception. A desperate act leads him to vow to get even for his mother's humiliation and terror. He recruits other victims of that night to join him in pursuing the Belmont Avenue Boys, determined to make them pay dearly – and gruesomely – for their unforgettable crimes.
J.F. Nolan served the Nassau County, N.Y., Police Department for 24 years, 14 as a supervisor in the Detective Division. The Marine Corps veteran completed nine years in the Homicide Squad. Nolan became the homicide commander when he was promoted to lieutenant of detectives, supervising several hundred murder investigations. "Rampage 1982" is his third novel. The native New Yorker and his wife, Gundie, live on Long Island.
B.D. Renard, a retired businessman and Army veteran, is personally connected to the story: His daughter began her first night as hostess in the Seacrest Diner on that fateful night. Although she was not physically abused, the event left her traumatized. Renard, a native New Yorker and widower, also lives on Long Island.
They dedicated the novel to the more than 100 victims injured physically and emotionally by the events that night.
----------
For additional information, please visit http://www.Rampage1982.com
Rampage 1982
B.D. Renard and John Nolan
Dog Ear Publishing
ISBN: 978-1-4575-3144-6 240 pages $19.99 US
Available at Ingram, Amazon.com, Barnes & Noble and fine bookstores everywhere.
About Dog Ear Publishing, LLC
Dog Ear Publishing offers completely customized self-publishing services for independent authors. We provide cost-effective, fast, and highly profitable services to publish and distribute independently published books. Our book publishing and distribution services reach worldwide. Dog Ear authors retain all rights and complete creative control throughout the entire self-publishing process. Self-publishing services are available globally at dogearpublishing.net
and from our offices in Indianapolis.
Dog Ear Publishing – self-publishing that actually makes sense.