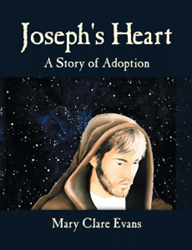 The story's simple message of love pairs beautifully with the luminous watercolor illustrations.
COLUMBUS, Ohio –
(PRWEB) December 16, 2014 -- Behind the tender account of the birth of Jesus is another story, equally powerful and even more astonishing. In the new book "Joseph's Heart: A Story of Adoption," Joseph is betrothed to Mary but finds out before the wedding she is with child. Joseph is devastated because he knows he is not the father of the baby she carries. It now becomes impossible for them to wed and even worse, there is no acceptable solution to this unthinkable situation. Accusing Mary of committing a sin condemns her to death, religious law forbids their marriage, and sending her away means she will be alone and forced to beg for survival.
But nothing is impossible with God.
In a dream, an angel comes to Joseph, telling him the good news of what the Lord has done. The angel tells him not to be afraid to take Mary for his wife and brings renewed hope to Joseph.
This illustrated children's book tells about the birth of Jesus as seen through the eyes of the man who adopted him, Joseph, as he becomes a father in a way he never could have imagined.
"How incredible that God would choose to create a family for Jesus with two different types of parents; a young mother who gave birth and an adoptive father," said Mary Clare. "The Holy Family was created by birth and adoption. Jesus could have come into the world in so many ways, but He chose to be born to this particular family and to come in this particular way."
The story's simple message of love pairs beautifully with the luminous watercolor illustrations. In the back of the book, a section called "Behind the Story" describes the history and customs of the time, making "Joseph's Heart" a children's book for all ages.
Author and illustrator Mary Clare Evans studied art at the University of Iowa and Arizona State University. A freelance artist, she has also taught art in public and private schools. She and her husband Daniel are the parents of two sons, one of whom is adopted. She was inspired to create this book to encourage others whose lives are also touched by adoption. "Joseph's Heart" is her first children's book.
----------
For additional information, please visit http://www.josephsheart.com, http://www.maryclareevans.com, or contact the author at info(at)maryclareevans(dot)com
Joseph's Heart: A Story of Adoption
Mary Clare Evans
Dog Ear Publishing
ISBN: 978-1-4575-2272-7 38 pages $24.95 US
Available at Ingram, Amazon.com, Barnes & Noble and fine bookstores everywhere.
About Dog Ear Publishing, LLC
Dog Ear Publishing offers completely customized self-publishing services for independent authors. We provide cost-effective, fast, and highly profitable services to publish and distribute independently published books. Our book publishing and distribution services reach worldwide. Dog Ear authors retain all rights and complete creative control throughout the entire self-publishing process. Self-publishing services are available globally at dogearpublishing.net and from our offices in Indianapolis.
Dog Ear Publishing – self-publishing that actually makes sense.