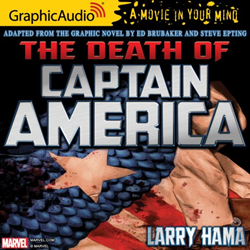 Bethesda, MD (PRWEB) December 22, 2014
GraphicAudio® A Movie in Your Mind®, in conjunction with Marvel Entertainment, takes you on a new adventure with THE DEATH OF CAPTAIN AMERICA.
Steve Rogers is dead! Long live Captain America! He was a hero to millions, an inspiration to America's armed services and the representative of his nation's greatest ideals. He lived for his country - and now, he has given his last final measure for the nation he loved. In the aftermath of his death, Cap's longtime partner, the Falcon, makes revenge his first order of business. Sharon Carter finds herself spiraling out of control, a captive of the Red Skull's minions. And Bucky Barnes, a.k.a. the Winter Soldier, must reconcile his own sordid past with his new calling. Experience Marvel's blockbuster shakeup of the Captain America mythos as never before in this new GraphicAudio adaptation!
DEATH OF CAPTAIN AMERICA is the third in GraphicAudio's Captain America trilogy with NEW AVENGERS: BREAKOUT and MARVEL CIVIL WAR.
Available from http://www.GraphicAudio.net and via the FREE GraphicAudio Access™ Mobile App which allows customers to directly download titles on their Android or iOS smartphones and tablets. GraphicAudio works closely with Marvel on a regular basis and recently received one of the Best Audio Dramas of 2014 accolade from AudioFile Magazine for IRON MAN: EXTREMIS.
About GraphicAudio® A Movie in Your Mind®: An imprint of The Cutting Corporation, since 2004, GraphicAudio® has published approximately 1000 titles and 65 different series in their GraphicAudio® A Movie in Your Mind® audiobook entertainment format. For more information visit: http://www.graphicaudio.net
About Marvel Entertainment
Marvel Entertainment, LLC, a wholly-owned subsidiary of The Walt Disney Company, is one of the world's most prominent character-based entertainment companies, built on a proven library of more than 8,000 characters featured in a variety of media over seventy years. Marvel utilizes its character franchises in entertainment, licensing and publishing. For more information visit marvel.com. © 2014 MARVEL