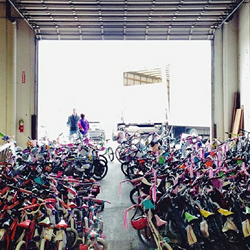 According to Paige McDaniel, Executive Director, Community Partners, "Our Toy Drive is something our caseworkers count on to be able to provide the joy of the season to children and families in transition. We are grateful for Peacock Alley's generosity."
Dallas, Texas (PRWEB) December 22, 2014
Luxury Linen purveyor Peacock Alley once again joined forces with Community Partners of Dallas to provide logistics and support for one of Dallas' largest holiday toy drives. A Dallas-based company, Peacock Alley has a long history of giving back to the community in which it lives and works. The additional sponsors of this year's Toy Drive were Whataburger® and 99.5 The Wolf.
There is no better time to give back than the holidays. Providing gifts to children who would otherwise not receive any is a meaningful way to help. This holiday season, Community Partners of Dallas will fulfill an estimated 12,000 holiday wishes for abused and neglected children in Dallas County. In order to help facilitate the Toy Drive, Peacock Alley donates a substantial amount of their Dallas warehouse space to house and organize donations earmarked for children from birth to age 18.
Toys were delivered to the Toy Drive at the warehouse by December 12, where they were organized by CPD staff and volunteers and picked up by caseworkers December 16th. Popular requests this year were bikes, items from Disney's Frozen, Buzz Lightyear, Dora The Explorer™ and VTech® learning tools, among many others.
ABOUT PEACOCK ALLEY
Peacock Alley, family owned and operated for more than 40 years, designs and manufactures bed and bath linens that combine a subtle touch of indulgence with trendsetting styles, always mindful of comfort and versatility. To learn more about Peacock Alley, please visit peacockalley.com, follow our news on Twitter @peacockalleyusa or like us on Facebook at Facebook.com/PeacockAlley
ABOUT COMMUNITY PARTNERS OF DALLAS
Community Partners of Dallas is a non-profit organization dedicated to ensuring safety and restoring dignity and hope to abused and neglected children by providing resources and support to the caseworkers of Dallas County Child Protective Services.