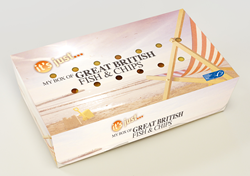 (PRWEB UK) 7 January 2015
The Alexir Partnership is delighted to be associated with Green Gourmet and congratulate them on winning the Food and Beverage Category Mercury Award 2014 for the 'It's Just… My Box of Great British Fish & Chips'. The Mercury's are the leading awards in the global travel catering industry and are judged by a highly respected panel of senior caterers and industry representatives.
The product solves the previous problem of how to keep batter crispy and chips non-soggy in an oven-cook, consumer ready box. Featuring white and flaky, sustainably sourced cod fillet, it is the first consumer ready product for the global travel market to be certified to the Marine Stewardship Council's (MSC) environmental standard.
Green Gourmet called upon The Alexir Partnership to overcome the challenge to construct the tamper-proof box, a key element in creating the winning formula for the product. The specialist board selected enables the fish and chips to be heated correctly whilst maintaining the succulence expected of this classic British dish. This product has already had a listing by British Airways and is now being trialled by some other well known worldwide carriers right the way around the globe.
The Alexir Partnership works closely with the airline and travel catering sectors in designing, developing and manufacturing bespoke food packaging to enhance food products which are being created and delivered to the world's leading airlines and travel providers.
Notes to editors
About the Alexir Partnership
With proven reliability, excellent quality and innovative packaging solutions, the Alexir Partnership is the only UK owned company that can offer a complete turnkey solution to the brand owner. The airline team at Alexir manufacture and co-pack millions of snack boxes each year as well as developing and manufacturing food packaging for hot eat, ambient, chilled and frozen products.
For more information contact:
Claire Summersby Marketing Manager & Head of Innovation, The Alexir Partnership
E: csummersby(at)alexir(dot)co(dot)uk
W: http://www.alexir.co.uk
T: 01732 866681
About Green Gourmet
Green Gourmet is a fresh, dynamic food innovation company based in the UK. They offer innovative solutions to foodservice challenges as well as supplying a large range of frozen meat, poultry, fish, vegetarian and bakery products.
For more information contact:
Barry Jordan, Marketing Manager,
E: bjordan(at)greengourmet(dot)co(dot)uk
W: http://www.greengourmet.co.uk
T: 00 44 1453 797 910