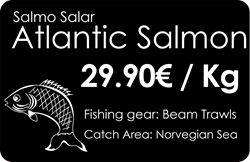 Angers (PRWEB) December 15, 2014
Evolis Card Printer, a global leader in solutions for plastic card personalization, announces the availability of a smart and quality-focused solution to deliver price tags and labels compliant with the new European regulations that came into force from December 13th, 2014, in the food industry.
Evolis has designed a one-of-its-kind solution for delivering price tags in plastic, in a truly hassle-free process. The solution which proves to be a boon for printing cards autonomously, is a real time-saver and encourages strong responsiveness in managing price tags. Such tags are in tune with functional and statutory requirements to be observed by retailers, restaurants, canteens and a variety of local shops (butchers, caterers, bakeries, cheese dairies, fishmongers and others).
Label harmonization to provide clear and detailed information
Two European regulations encourage the harmonized labeling of food products and support the consumer's needs for consistent information.
The regulation (UE) N°1169/2011 on food information to consumers (FIC regulation) requires that all professionals selling processed and non-prepacked food products declare any allergenic ingredient in their product, including peanuts, celery, shellfish, nuts, gluten, sesame seeds, milk, lupin, mollusks, mustard, egg, fish, soya and sulfites.
The regulation (UE) N°1379/2013 on the Common Organization of the Markets of Fishery and Aquaculture Products (CMO regulation) requires the provision of additional information for fish and seafood, including the production method and product origin. Labels are required to state the scientific names of the species in Latin, the fishing equipment used, as well as the area, or sub-area of fishing.
A smart and quality-oriented solution
The price tags and labels designed by Evolis aims at streamlining the price update process for food professionals.
The solution combines an Evolis Zenius or an Evolis Primacy printer, for single-sided and dual-sided printing respectively, card design software, as well as ribbons and cards required for printing tags.
Plastic cards: multifarious benefits as price tags
Besides a boost in brand and product image, Evolis labels provide a host of valuable assets, including:

Plastic cards and printing ribbons that support the requirements of the food industry are TÜV certified,
Seamless flexibility in designing cards, as well as advanced customization with the insertion of a logo, or of printed text that ensures clear and legible product information (product name, price, UoM, ingredients, allergens and more). The tag's back face can host a barcode, as well as a PLU or a weighing code. This eases data capture when calculating the price of a product/quantity purchased,
Plastic cards are robust and able to withstand humidity in fresh food aisles,
A very hygienic option: the tag's smooth surface can be washed easily and rapidly,
The possibility of importing price schedules for use by the printer's software.
About Evolis (http://www.evolis.com): Evolis develops, manufactures and markets a complete range of card printers that provide all the options needed for graphic, magnetic and electric personalization (contact or contactless chip cards – RFID technology) of all types of cards (badges, student cards, bank cards, etc.). Evolis also provides products and services for the identification of people and goods: signature pads, identification accessories and related services.
Based in Angers (France), with subsidiaries in Miami (USA), Singapore, Mumbai (India) and Shanghai (China), Evolis is listed in Paris Stock Exchange (Alternext) and earned sales of EUR 56.2 million in 2013. The company has 280 employees and is represented in more than 125 countries worldwide.
Press contact: Franck Gauthier - Evolis Card Printer - T: +33 (0)241 367 924 - fgauthier(at)evolis(dot)com