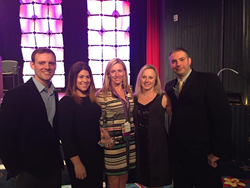 Every day we ask ourselves what more can we do for our patients and our community? And sometimes we do fail but we learn from our mistakes, we keep moving and we innovate, constantly looking at our values and striving to simply provide the best care
Providence, RI (PRWEB) December 17, 2014
This prestigious award is given annually to nationally recognize private practices that have made outstanding and innovative contributions to the physical therapy profession and in support and progression of private practice physical therapy by the Private Practice Section of the American Physical Therapy Association.
On behalf of Performance Physical Therapy, Michelle Collie PT, MS, DPT, OCS, owner and CEO of Performance accepted the award at the Private Practice, APTA National Conference in Colorado Springs. Michelle was joined with her leadership team, COO Lisa DeCoste MSPT, DPT, OCS, Clinical Officer David Pavao DPT, OCS, Compliance Officer Yvonne Swanson MSPT, OCS, and Christopher Hughes, Director of Marketing.
"I am humbled to accept this award on behalf of the team at Performance Physical Therapy, a team that has proven to be courageous as we work together evolving and changing in the current health care environment. Every day we ask ourselves what more can we do for our patients and our community? And sometimes we do fail but we learn from our mistakes, we keep moving and we innovate, constantly looking at our values and striving to simply provide the best care," said Dr. Collie.
Dr. Collie is the principal owner of Performance Physical Therapy, an APTA member and President of the RI Private Practice Group. Dr. Collie serves on the Reach out and Read Board of Trustees and in the past, Brown / Guachipilincito Partners, Shoulder to Shoulder, Children's Museum and Multiple Sclerosis Board of Trustees. This month Dr. Collie was a recipient of a Rhode Island Small Business Journal, Entrepreneurial Women to Watch award. In 2004 she received the MGH-IHP Ionta Award for Clinical Excellence; 2006 RI APTA Annual Distinguished Service Award and Private Practice Award; 2012 Corporate Heroes Award; 2012 RI Outstanding Philanthropic Business Award from the Association of Fundraising Professionals.
This year 2014, Dr. Collie and the team at Performance Physical Therapy were awarded by Providence Business News as one of the 2014 Best Places to Work. Performance Physical Therapy recently hosted its first Annual Charitable Performance PT 5K Race / Walk with the proceeds of over $12,000 going to 3 local charities, including Ronald McDonald House. Proceeds going to New England Distance and East Providence Townies will strengthen high school athletic programs in Woonsocket and East Providence. Dr. Collie also founded the Performance Physical Therapy Charitable Foundation, a 501c, to ultimately continue the culture supporting community health and fitness that Performance and Dr. Collie are so passionate about.
The private practice award is named after the late Jayne L. Snyder, a celebrated physical therapist from Lincoln Nebraska. Dr. Snyder was a former President and Chair for the Foundation for Physical Therapy, Board member of the APTA and a passionate advocate for evidence-based physical therapy interventions and sat on several committees as a resource in state and federal legislation deliberations.
Performance Physical Therapy is a Rhode Island based physical therapist-owned practice with nine locations throughout the state. For more information, call (401) 726-7100 or visit http://www.performanceptri.com/ .