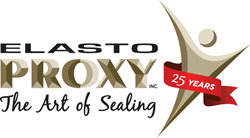 Elasto Proxy's name, a marriage of the words "elastomer" and "proxy", defines what co-founder and co-owner Doug Sharpe calls "our commitment to fully understanding your needs and delivering on them."
Boisbriand, Quebec, Canada (PRWEB) December 16, 2014
Elasto Proxy, a leading custom-fabricator of industrial rubber products, is announcing a new video that demonstrates its commitment to partners in industries such as automotive, defense, electronics, food equipment, green power, mass transit, medical equipment, and mobile specialty vehicles.
Elasto Proxy – Commitment begins by describing the Canadian company's customer-oriented approach. Elasto Proxy's name, a marriage of the words "elastomer" and "proxy", defines what co-founder and co-owner Doug Sharpe calls "our commitment to fully understanding your needs and delivering on them."
This year, the Quebec-based company is celebrating its 25th year in business. Elasto Proxy also has offices in Ontario, Canada; South Carolina, USA; and Shanghai, China. The sealing and insulation specialists value strong, long-term business relationships and welcome inquiries from potential partners.
Committed to Quality
As the Elasto Proxy – Commitment video shows, the rubber parts fabricator listens to partners' needs and pays strict attention to detail. Through a combination of traditional craftsmanship and state-of-the-art technologies, Elasto Proxy supplies specialized sealing and insulation solutions.
Precision machining and water jet cutting are just part of what Elasto Proxy can provide. Technical design and custom fabrication capabilities also include seal simulation software and splicing solutions. Elasto Proxy stocks over 700 molded and extruded profiles that are ready for custom fabrication.
About Elasto Proxy
Now celebrating its 25th year, Elasto Proxy specializes in the custom fabrication of industrial rubber products such as bulb trim seals, sponge profiles, edge trim, solid profiles, dual durometer rubber parts, weather stripping, window channels, rubber floor matting, industrial tubing, sheeting, bumpers, EMI/RFI shielding, inflatable seals, insulation, and molded parts.
Media Contact:
Megan Beaulieu
Executive Support
Elasto Proxy Inc.
4035 Lavoisier Street
Boisbriand, Quebec, Canada
J7H 1N1
mbeaulieu(at)elastoproxy(dot)com
For Immediate Release:
http://www.elastoproxy.com/
Ph: (450) 434-2744