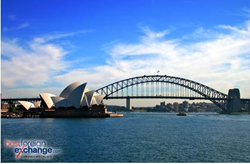 British sports fans will be right behind Andy (Murray) and Lewis (Hamilton), let alone the cricketers
London, UK (PRWEB UK) 17 December 2014
Australia Tourism, responsible for market research and development of tourism in Australia, recently reported that visitors from the United Kingdom were increased by 11.4% in 2014, thus becoming the 4th largest travel market for Australia.
Australia is a popular destination among British travellers during the winter considering the warmer weather, coupled with a number of sporting events that are held. "Similarity in language and sports culture is a deciding factor among many travellers to choose Australia during the winter," stated Trevor Samuel, Area Manager of BestForeignExchange.com.
The Australian Open will commence on the 19th of January, followed by the ICC World Cup in February. On the 15th of March, the F1 will be starting in Melbourne. "British sports fans will be right behind Andy (Murray) and Lewis (Hamilton), let alone the cricketers," Samuel continued.
BestForeignExchange.com offers the most competitive exchange rates for Aussie Dollars and advises travellers to buy their travel money in advance to enjoy the favourable market conditions, and also to avoid airports and high fee charging cards for their travel money deals.
BestForeignExchange.com also offers very attractive rates for New Zealand Dollars, Singapore Dollars, Malaysian Ringgits, and Fijian Dollars. All major currencies can be purchased at any of the branches of Thomas Exchange Global ltd or next day delivery service via Royal mail.
About BestForeignExchange.com
Owned and operated by Thomas Exchange Global, BestForeignExchange.com offers the most competitive exchange rates in London and customers that reserve currencies online will be assured the same exchange rate until close of business on the particular day despite any adverse fluctuations. They stock the widest range of foreign currencies in London with over 120 types of foreign bank notes. All foreign currency buy/sell transactions are free of any commission or charges.
Thomas Exchange Global also offers International Money Transfer Service where funds can be remitted to overseas bank accounts within one to two days. With commission free service for transfers over £10,000 backed by competitive exchange rates, customers are assured of a better deal and a substantial saving compared to banks and money brokers. Thomas Exchange Global branches are located at Strand, Victoria Street, Liverpool Street, Hammersmith, Cannon Street , Wormwood Street and Richmond