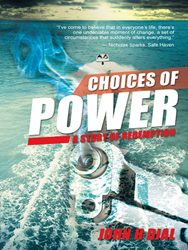 The history works as a background for the ideas that moral peace can't be bought and that moral dilemmas prompt changes in people
WOODSTOCK, Ga. (PRWEB) December 19, 2014
Along with the fall of communism in 1989 came the Bulgarian mafia, which has lasted into the 21st century. Olympic sportsmen, mostly wrestlers, formed the fraternity, which is presumed responsible for more than 150 contract killings, one as recent as January 2013.
From that piece of history, John Dial has created a story of redemption starting with a well-known Olympic wrestler who assassinates the Bulgarian Defense Minister and including a New Jersey drug smuggler, a Columbian cocaine cartel, a motorcycle gang, an amateur boxer, and a barroom brawler.
"I spent quite awhile researching the formation of the Bulgarian mafia as well as politics in the country," Dial said. "The history works as a background for the ideas that moral peace can't be bought and that moral dilemmas prompt changes in people."
A US Army veteran and a Christian, Dial lived through some of the scenes in "Choices of Power", such as a fight with Marines at a Marine Corps base in North Carolina and the Christian transformation one of the key characters goes through.
"I felt I had a good story in me based on life experiences, research, and imagination," Dial said.
For more information, visit http://www.johnhdial.com/.
Choices of Power
By John H. Dial
ISBN: 978-1-4525-1975-3
Available in softcover, hardcover, e-book
Available on Amazon, Barnes & Noble and Balboa Press
About the author
John Dial is a patent holder, a retired engineer and college professor, and a US Army veteran. He and his wife live in Georgia.
# # #
**FOR IMMEDIATE RELEASE**
For review copies or interview requests, contact:
Jaymie Shook
317.602.7137
jshook@bohlsengroup.com