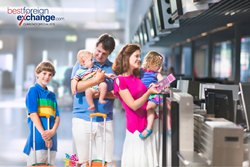 family of 4 travelling to North America will save £ 138, and long haul flights to Australia and Asia will save over £ 200
London, UK (PRWEB UK) 22 December 2014
The Chancellors announcement to abolish the air passenger tax for children under 12 will save hundreds of pounds for families vacationing next summer. On 3rd December, Mail Online reported that a family of 4 travelling to North America will save £ 138, and long haul flights to Australia and Asia will save over £ 200.
Going a step further, the air passenger tax for children under the age of 16 will be abolished the following year.
"The entire travel industry welcomes the tax cuts on family travel, thus enhancing the disposable income while holidaying," stated Trevor Samuel, Senior Manager of Thomas Exchange Global Ltd.
"As the travel market for air passengers under the age of 12 is over 3 million tickets per annum, the savings to outbound UK travellers is considerable," continued Samuel.
In order to make maximum the benefits of tax cuts, and enhance disposable income while travelling, Thomas Exchange Global recommends that travellers ensure the best travel money deal when buying foreign exchange.
"Avoid debit cards and pre paid cards with a chain of charges at every stage of the transaction, from the initial purchase of foreign exchange to the time of withdrawal at an overseas ATM. Instead, we offer the best exchange rates for travel money in the UK and stock over 120 types of foreign bank notes," concluded Samuel.
About Thomas Exchange Global
As dedicated foreign exchange specialists, Thomas Exchange Global has the professional expertise, in depth market knowledge, technological infrastructure and commitment to provide an unprecedented level of service that sets the standard in the foreign exchange industry. They are specialists in all areas of foreign exchange. They provide commission free currency as well as travellers cheques.
Thomas Exchange Global also offers International Money Transfer Service where funds can be remitted to overseas bank accounts within 1 to 2 days. With commission free service for transfers over £10,000 backed by competitive exchange rates, customers are assured of a better deal and a substantial saving compared to banks and money brokers.
Thomas Exchange Global branches are located at Strand, Victoria Street, Liverpool Street, Hammersmith, Cannon Street , Wormwood Street and Richmond.
For further details visit http://www.thomasexchangeglobal.co.uk or call 020 7240 1214