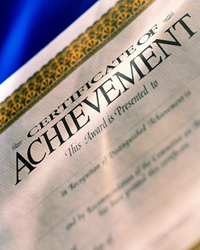 This is such an honor!
New York, NY (PRWEB) December 16, 2014
Michael Management Corporation, a leader of award-winning SAP training and eLearning solutions, is pleased to announce the winners of their 2014 Excellence in SAP Training Awards.
Selected out of ten finalists and over 60 contenders, the winners were DAP Products, Inc., a leading manufacturer of home repair products (Platinum winner); Boeing, Inc., the global aircraft manufacturer (Gold); Lennox International, Inc., a global provider of climate control solutions (Silver), and Bio-Rad Laboratories, Inc., a manufacturer of a broad range of innovative tools and services in the life science research and clinical diagnostics markets (Bronze).
The 2014 Excellence in SAP Training Award was developed to recognize those organizations that make training a priority. The awards were judged on several considerations including the number of training hours provided per student, course completion percentage, and average final exam scores.
"This is such an honor. Our success resulted from creating learning paths to promote professional development and by encouraging our users to take advantage of this excellent learning opportunity," said Tamala W. Bardlett, M.Ed., Documentation & Change Management Lead for Lennox International.
Michael Management Corporation strives to provide SAP training that is innovative, accessible and engaging. MMC's mission is to deliver customers an unmatched level of SAP product expertise that goes beyond static PowerPoint presentations.
"We applaud these companies. Their commitment to providing corporate SAP training is truly commendable. Michael Management is pioneering SAP eLearning and these companies recognize that it's a more effective way to learn," said Michael Management CEO, Thomas Michael. "SAP eLearning makes not only the companies more successful, but it enriches and upskills the careers of their employees."
This is the third year of Michael Management Corporation's Excellence in Training Awards, and due to its success over three years, they plan to expand the program in 2015.
To learn more about the official Excellence in Training Award please visit http://www.michaelmanagement.com/mmc-excellence-in-training-award.asp.
About Michael Management Corporation
Michael Management Corporation is a leading provider of SAP training, SAP access and recognized expert SAP consulting services. The company provides an unmatched level of SAP product expertise and consulting experience. Michael Management Corporation's award-winning online SAP training courses are used by many Fortune 500 companies around the world to train their users on SAP know-how.
Michael Management Corporation (MMC), the MMC Logo and the MMC Swoosh are registered or unregistered trade and/or service marks of Michael Management Corp. and are protected by US and international copyright laws. All other names, brands, logos, etc. are registered trade or service marks of their respective owners. MMC is not affiliated with SAP AG.