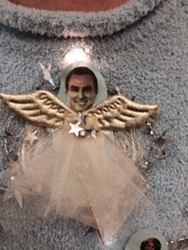 The 2014 winner is Tandy Wilson for the second year in a row. She's a highly creative ugly sweater enthusiast
Marietta, GA (PRWEB) December 24, 2014
Verde Pointe Dental Associates 2014 Ugly Holiday Sweater Contest turns out more comical than ever. "Last years homemade Christmas sweater lit up, but this years overall color and design was even uglier. The 2014 winner is Tandy Wilson for the second year in a row. She's a highly creative ugly sweater enthusiast," says Kirk Kimmerling DDS. "She took pictures of the entire staff and glued them as faces to angels on the sweater."
"Every year I enjoy stopping by the dental clinic and see everyone's ugly sweaters. It's lots of fun," says Tandy. "This year, I decided that everyone would be an angel with Dr. Kimmerling at the top in a tulle gown, garnished with a beautiful diamond center piece. He and the other two doctors always get special attention." Suzanna Aguilera DMD, and Garrick McGrath DMD are floating in clouds near the top of her shirt. They both thought she was the uncontested winner.
Elaine O'Leary came in second place with an usually ugly and annoying sweater. She had forty to fifty bells sewn to the sweater, making it a noisy event every time she moved. If it had lit up, she may have won. Tandy's baby blue sweater was just plain uglier.
The Ugly Sweater Contest has already been announced for next year, as Verde Pointe Dental Associates plans the contest as an re-occurring event. The Marietta dentists, hygienists, front staff and dental assistants together love to have fun. Other sweaters can be seen on Verde Pointe Dental Associates's Facebook page.
Kirk Kimmerling DDS, Suzanna Aguilera DMD and Garrick McGrath DMD are Marietta cosmetic dentists and emergency dentists at Verde Pointe Dental Associates. They are passionate about every patient's dental health helping people to achieve the smiles they've always desired. The Marietta dentists offer a full range of dental services from teeth whitening, dental veneers, root canals, dental extractions, dental crowns, dental caps, dental bridges, full dentures, partial dentures, dental implants, mini dental implants, implant crowns, implant bridges, Kor teeth whitening, Zoom dental whitening and gum treatment. Cosmetic and emergency dentists available.