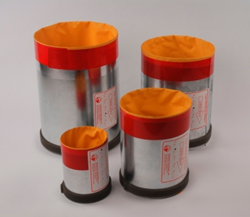 Winter backdrafts rob your home of heat.
Cape Cod, MA (PRWEB) December 17, 2014
A simple question from a befuddled builder led Tamarack Technologies to new uses for its Cape Back Draft Damper and helped underscore the importance air flow plays in winter. It also led to the testing of more than 15 bathroom fans and several inline fans by the company's technical director who realized that almost all bathroom fans leak due to poor construction of their dampers. The company is now placing a new emphasis on helping consumers understand the importance of backdrafts and proper air venting from the home to the outside.
According to Tamarack CEO Tom Colasanto, "One of our customers installed a well-known bathroom fan with a built-in humidistat in several of his new homes along the coast of North Carolina. Once the owners moved in they found their bathroom fans were running 24/7. After looking at the problem they realized that cold air in the winter and humid air in the summer was backdrafting through the duct to the fan causing it to run constantly – wasting a lot of energy. He was prepared to replace all fans until he searched the web and found our Cape Back Draft Dampers.
"They were installed at the exhaust end of the bathroom fan duct and they immediately solved his ventilation problem. Through our research, we have discovered that bathroom fans -- just by the way they're constructed -- will leak either cold air in the winter or hot humid air in the summer limiting the effectiveness of a homeowner's HVAC system. Our Cape Back Draft Damper is a simple solution to a problem consumers will recognize when they feel cold air blowing down on them from the bathroom fan this winter. Similarly, backdraft through a dryer vent also adds a chill to the utility closet or room."
"These dampers are perfect for new home construction and can easily be retrofitted in older homes," he added
See more details and images of the Cape Back Draft Damper at http://www.temtech.com.