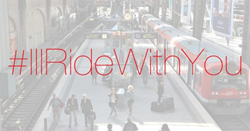 The Australians are teaching the world that the same 140 characters of hate can be filled with love and acceptance.
London, UK (PRWEB) December 15, 2014
On December 15th, 2014, Australians and the World woke up to news, like this piece published by the BBC today, of what is dubbed the #SydneySiege where a suspected Islamic fanatic appears to have taken an unconfirmed number of hostages in a local café in downtown Sydney displaying a black flag typically associated with Al Qaeda and other Islamist terrorist groups. What followed is a testament to the power of love over hatred and how social media can create peace instead of war, NoBullying explains what the hashtag #illridewithyou means in an article released today.
According to the same article by BBC, Prime Minister Tony Abbott declared that it was "profoundly shocking" that people were being "held hostage by an armed person claiming political motivation". He added "Australia is a peaceful, open and generous society - nothing should ever change that and that's why I would urge all Australians today to go about their business as usual."
And while the international world stopped in silence to follow the events still unfolding in Sydney, social media accounts from all over Australia were suddenly filled with "anti islam sentiments" and promising the Muslim community in Australia violence and "unsafe" existence in retaliation, explains Radwa Rashad, NoBullying's Editor at Large.
She says in the article "Now you are thinking, social media is turning into a platform for inciting violence. But to our amazement and appreciation, Tessa Kum, a TV content editor and writer living in Sydney tweeted to Australian Muslims that if they fear for their lives she will ride with any of them to and from their work or everyday activity.
One declaration of solidarity is now turning into #illridewithyou, the top hashtag trending worldwide filled with tweets and posts by Australians promising to take a ride Tuesday morning with any member of the Muslim community feeling unsafe in amidst the tension escalating and asking fellow Muslim Australians to wear their tradition Muslim attire with no fear simply because, Australia is riding with them to and from work.
In a world sadly filled with internet terrorism, cyber bullying, online threats and intolerance, the entire online community of Australia is rallying up to spread positivity and tolerance despite the Sydney Siege, proving it takes a few words to incite violence and the same number of words to spread peace, Rashad adds.
Ciaran Connolly, Co Founder of NoBullying says "While the world can sadly be filled with all sorts and kinds of intolerance and unkindness and even prejudice, the Australians are teaching the world that the same 140 characters of hate can be filled with love and acceptance."
He added that parents and teachers should make a point to educate the younger generations about the sad outcome of hatred, intolerance and prejudice online and offline. According to Connolly, it is quite imperative to press for more firm laws condemning all acts of bullying and harassment.
NoBullying.com features many pages dedicated to parents, teens, teachers, health professionals as well as posts related to cyber safety and the latest news about law making concerning curbing Bullying worldwide as well as inspirational Bullying Poems and famous Bullying Quotes.
The website regularly updates its bullying statistics and cyber bullying statistics as it is essential to understand how widespread the bullying epidemic is. It also regularly runs cyber bullying surveys and questionnaires to get recent updated statistics on everything related to cyber bullying.
He also added that anyone suffering from bullying in any form or way can always find advice and help on the NoBullying website – but if anyone is suffering from severe bullying or cyber bullying, the best thing is to talk to someone locally – a parent, teacher or local organization that has been set up to help with specialized councilors to deal with this topic.