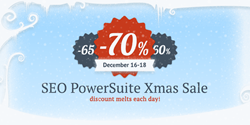 It's a great opportunity for anyone interested in SEO PowerSuite tools to get them at a huge discount.
(PRWEB) December 16, 2014
Link-Assistant.Com, a leading SEO software provider, has announced the start of its annual Christmas sale during which the company will offer SEO PowerSuite tools at whooping 70% off.
"Christmas comes this time each year, and so does our annual holiday sale", says Erin Madison, User Experience Manager at Link-Assistant.Com. "It's a great opportunity for anyone interested in SEO PowerSuite tools to get them at a huge discount."
*SEO PowerSuite Sale 2014 - Terms and Conditions*
The SEO PowerSuite Christmas Sale will run from December the 16th till December the 18th.
And, SEO PowerSuite will be priced differently during each day of the sale:
Day 1 - SEO PowerSuite tools will be sold at 70% off
Day 2 - The discount will drop to 65% off
Day 3 - SEO PowerSuite software will be available at 60% off.
Users will be able to choose which version of the software they'd like to purchase, SEO PowerSuite Professional or SEO PowerSuite Enterprise.
More detail on the sale's terms and conditions can be found at its official page - http://www.link-assistant.com/christmas-sale-2014.html
*What are SEO PowerSuite tools?*
SEO PowerSuite is a set of tools that help site owners and marketing agencies monitor and increase a website's online visibility.
The SEO toolset consists of the following apps:
1. Rank Tracker is an SEO tool for monitoring website's positions across hundreds of search engines (including Google, Yahoo! Bing, Baidu, Naver, Yandex, and others). It also has the keyword research module that lets one discover and assess SEO and PPC keywords.
2. SEO SpyGlass is SEO PowerSuite's backlink checker that analyzes links pointing to a site, helps one detect low-quality backlinks (in the Link Penalty Risk module) and uncovers those of the competition.
3. WebSite Auditor is a multipurpose SEO app that does site audit, landing page optimization, SEO reporting, and more.
4. LinkAssistant is an effective tool for discovering link opportunities, doing link outreach, performing backlink verification, etc.
*About Link-Assistant.Com*
Link-Assistant.Com is a software developer and the company behind SEO PowerSuite, an all-embracing SEO pack that covers a complete range of SEO tasks: keyword research, rank tracking, site audit, content optimization, backlink analysis, link outreach and SEO reporting. SEO PowerSuite is used by over 500,000 website SEO-optimization professionals worldwide and has won industry awards for being top-used and best-selling SEO software.
The company has recently updated user experience for the Russian-speaking users of SEO PowerSuite, with the new version of its Russian site, seopowersuite.ru, released not long ago.