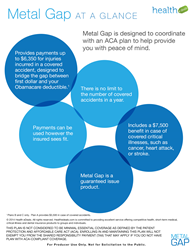 Most average people can't afford the $6,350 per person out-of-pocket. They want Metal Gap to help pay their deductibles and co-pays in case of catastrophic illness or accidents.
Minneapolis, MN (PRWEB) December 16, 2014
Metal Gap, an innovative, supplemental insurance product from The IHC Group, fills the gap in coverage for many with high deductible health plans. In the event of accidents, illnesses or hospital stays, Metal Gap* helps consumers manage financial responsibilities such as the high deductibles, coinsurance and co-payments associated with the more affordably priced Obamacare plans.
A recent article in The New York Times reports that 85%** of individuals buying on a public exchange receive subsidies, making the monthly premiums for these plans now affordable for many. However, the high out-of-pocket expenses mean that the buyer may still not be able to afford the out-of-pocket costs associated with medical emergencies such as treatment for a broken limb or comprehensive blood tests for diagnosing an illness.
For the popular Bronze Plans, the consumer must pay for all of their medical services up to their deductible of $5,181, and is then still responsible to pay 40% until they reach their out-of-pocket maximum of $6,600.
"We expect the bulk of our Obamacare sales to be Bronze and Silver plans this year. Most of those plans on our website, healthedeals.com, come with deductibles of $3,500 to $6,600, which can be a real burden for many people," said Brian Dow, Chief Operating Officer of Health eDeals.
Metal Gap will pay up to the out-of-pocket maximum related to accidents and also bundles coverage for critical illnesses such as cancer and heart attacks. Metal Gap provides up to $6,350 in accident medical expense coverage and $7,500 in critical illness coverage with premiums as low as $24.95 per month.
Jeff Keller, a broker in Manhattan, Kansas, offers Metal Gap to his clients who choose not to purchase a Gold or Platinum plan due to cost. Mr. Keller noted, "The difference in cost between a Bronze and Silver plan can be as much as $75 per month; if the client can't afford to buy the next higher level plan, I suggest that they go with the lower cost plan and use the gap plan to help in case they have a high dollar claim. It adds peace-of-mind for my clients, particularly those with children."
"Metal Gap is very attractive right now, as my clients are seeing new ACA plans with high deductibles and significant increases in out-of-pocket costs," said Dave Blunier, owner of Insurance Solutions, Inc. in Phoenix, AZ. "Most average people can't afford the $6,350 per person out-of-pocket. They want Metal Gap to help pay their deductibles and co-pays in case of catastrophic illness or accidents. And if a young invincible client or self-employed dad has a car accident costing $20,000 in out-of-pockets and deductibles, they would face difficulties in covering these costs."
According to Mr. Dow, "For those looking to cover more than accidents and critical illnesses, Metal Gap offers an optional hospital benefit that would pay $1,000 for the first day of a covered hospital stay and $500 per day for up to nine additional days."
Metal Gap is available through licensed insurance producers, online at http://www.healthedeals.com or by calling Dave Keller at 952-746-6614. For more information, please visit http://www.healthedeals.com/articles/metal-gap-121614.

This Plan is not considered to be minimal essential coverage as defined by the Patient Protection And Affordable Care Act (ACA). Enrolling in and maintaining this Plan will not exempt you from the Shared Responsibility Payment (TAX) that may apply if you do not have a plan with ACA-compliant coverage.
** Source: The New York Times, Oct. 26, 2014 http://www.nytimes.com/interactive/2014/10/27/us/is-the-affordable-care-act-working.html
About IHC Specialty Benefits, Inc.
IHC Specialty Benefits, doing business as Health eDeals, is a full-service marketing and distribution company that focuses on small employer, individual and consumer products. Products are marketed through general agents online, telebrokerage, advisor centers, private label and directly to consumers. For more information about IHC Specialty Benefits, visit http://www.ihcgroup.com.
About The IHC Group
The IHC Group is an organization of insurance carriers and marketing and administrative affiliates that has been providing life, health, disability, medical stop-loss and specialty insurance solutions to groups and individuals for over 30 years. Members of The IHC Group include Independence Holding Company (NYSE:IHC), American Independence Corp. (NASDAQ: AMIC), Standard Security Life Insurance Company of New York, Madison National Life Insurance Company, Inc. and Independence American Insurance Company. Each insurance carrier in The IHC Group has a financial strength rating of A- (Excellent) from A.M. Best Company, Inc., a widely recognized rating agency that rates insurance companies on their relative financial strength and ability to meet policyholder obligations. (An A++ rating from A.M. Best is its highest rating.) Collectively, the companies in The IHC Group provide insurance coverage to more than one million individuals and groups. For more information about The IHC Group, visit http://www.ihcgroup.com.