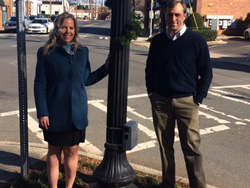 The Eco-Counter PYRO sensor helps us more effectively advocate for building a downtown that creates a safe and vibrant experience for pedestrians.
Charlotte, NC (PRWEB) January 08, 2015
When the goal of your organization is to implement strategies and actions to drive the economic, social and cultural development of a large downtown city, how do you collect accurate pedestrian foot traffic data to recruit retail and commercial businesses? Charlotte Center City Partners, (CCCP), sought out special pedestrian counting technology to do just that for their Charlotte, NC, Center City area, choosing Eco-Counter's PYRO sensor, a self-contained pedestrian counter specifically designed for the urban environment. The Eco-Counter PYRO sensor uses passive infrared technology with a high precision lens to detect changes in temperatures when a person passes in the range of the sensor. It can easily be installed on any existing post, and blends into the surrounding landscape with different color options, which helps make it resistant to vandalism. The sensor works in all weather conditions, and can be moved to different locations based on specific counting needs. The count data can be accessed remotely via cellular communication to allow for rapid and continuous access to the data. This was exactly the easy to use technology Tobe Holmes, Director of Historic South End, at CCCP, was looking for in order to help him measure event success, and to plan for future events in specific sections of downtown Charlotte, NC. "In the past, the validity of our pedestrian counts was questioned. I wanted indisputable technology to support our counts, and found the Eco-Counter PYRO sensor could do just that," said Holmes.
Charlotte Center City Partners has used their PYRO sensors to get accurate counts in over 20 different locations throughout Uptown Charlotte and the South End areas over the past 9 months. The data can be tracked by date, day of the week, and the time of day that people are visiting these locations. Matching the data to track the impact of special events such as: parades, sporting events, new retail stores, and even the weather, proves to be an invaluable resource for any organization, or retail owner, looking for patterns in pedestrian counts to help in planning purposes. CCCP has analyzed these pedestrian patterns to identify trends based on when and where pedestrian traffic peaks. They have been able to determine that foot traffic throughout the Uptown Charlotte and South End regions is at its highest after sporting events, such as Carolina Panthers and Charlotte Knight games. The foot traffic spreads throughout other sections of the city, instead of just being contained to the retail areas closest to the event arenas.
Placing the Eco-Counter PYRO sensor at certain entry/exit points, like stations along the Lynx Blue Line Light Rail service, helps determine how many people are using this type of transportation to travel to places such as the 7th Street Public Market downtown. Upcoming construction that closes a rail station can have a negative economic impact to the area. However, knowing that a significant number of visitors come through this entry point means the city can place alternate route signs up prior to the construction, ultimately helping to filter people in through different entrances. Charlotte Center City Partners can also provide accurate information on the number of patrons visiting a specific area during a special event like Small Business Saturday. This information can be shared with retail owners and business developers, and the pedestrian trends can be used to plan for similar type events in the future.
All of these data points help Charlotte Center City Partners with retail and commercial recruitment, as well as outdoor event planning. Local brokers and real estate developers utilize this information when potential tenants request foot traffic information to decide on locations to set up their business, or to choose locations to put up signs. CCCP can also analyze the impact of special events, marketing materials, or newly installed visual/art structures, in their attempt to entice people to underutilized areas of downtown Charlotte. Reports based on studies conducted before an event, during an event, and after an event, help CCCP analyze how pedestrian trends change in certain areas due to specific events.
"Charlotte Center City Partners is committed to making Uptown Charlotte and South End, walkable and livable communities. The ability to effortlessly track pedestrian numbers allows us to gauge the impact of special events and new development, helps assess market opportunities for retailers, building owners and developers, and provides data to help us more effectively advocate for building a downtown that creates a safe and vibrant experience for pedestrians," said Maggie Collister, Director of Research for Charlotte Center City Partners.
The next PYRO sensor counting project will be at the Overstreet Mall, an indoor shopping district that spans multiple buildings connected by enclosed tubes spanning overhead across city streets. The data will be used to determine how many people utilize the tubes, and the trends associated with weather usage, such as rain, as well cold temperatures during winter months. The trend data will support the Mall's retail strategy, along with providing the real estate developers with actual counts of pedestrians taking advantage of this unique architectural design.
"Transportation Equipment & Services, Inc. is pleased to be able to support Charlotte Center City Partners in their efforts, by providing Eco-Counter technology, to include the Eco-Counter PYRO. The portability and ease of use of this pedestrian counting sensor are just two of the numerous exciting aspects of this technology that we believe benefit our customers, and ultimately their surrounding communities," said Jason Holland, sales consultant for Transportation Equipment & Services, Inc.