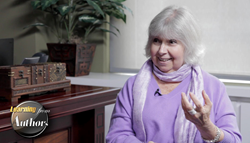 "Robin Morgan has led such a multifaceted life and made such an impact in people's lives through her writing, her radio show and her work for women's rights, we are very proud to add her interview to SarderTV so others may learn from her,"
New York, New York (PRWEB) December 26, 2014
Robin Morgan, prolific and well known author, radio show personality, political activist and former child actor, has a lot of things to talk about. In an exclusive interview for SarderTV, the online learning channel, Robin Morgan provides her lively insights on topics ranging from what it was like working as a child actor, what drew her to writing, and what has kept her involved with the women's movement all of her life. Speaking with Jennifer Crumpton, SarderTV correspondent, Robin discusses the responsibility of women who have succeeded in life to mentor other women, what she looks for in a guest for her syndicated radio show Womens Media Live, her work at the Women's Media Center, and what she does to replenish her spirit.
"Robin Morgan has led such a multifaceted life and made such an impact in people's lives through her writing, her radio show and her work for women's rights, we are very proud to add her interview to SarderTV so others may learn from her," said Russell Sarder, CEO of NetCom Learning and creator of SarderTV.
A woman who has had to sit through meeting after meeting in order to make a difference in media, in publishing, and in the daily lives of women, Robin Morgan states if there is hell it is one uninterrupted meeting. To deal with the stresses of political activism, endless meetings, and writing collections of poetry, non fiction and fiction books, essays and plays, Robin Morgan shares in the SarderTV interview, there is a secret Martha Stewart side of her that replenishes her life with cooking and gardening. She calls these her "moments of zen". In the interview Robin Morgan, talks candidly about what she sees in terms of womens' impact in the world of business. According to Morgan, "You haven't seen nothing yet," when it comes to the growing number of women entrepreneurs, and the increasing number of women in position of power. She also states there is still a long way to got to achieve parity in the workforce. Morgan also talks about her writing and how she always knew she wanted to write and that it was the "how" of writing, the opportunity to "play with words" which drew her the field rather than the "what" of writing. Her book, 'Sisterhood is Powerful" was cited as one of the "most influential books of the 20th century by the New York Public Library. The interview provides viewers with a taste of what it has meant to be be consumed with improving the lives of women, and the energy involved in that lifelong fight.
SarderTV offers provoking, educational and candid interviews so that new entrepreneurs and aspiring business people can learn from them. The database is part of the international Learning Movement created by Russell Sarder to help spread knowledge and inspire a passion in lifelong learning. Operating on the premise that motivated individuals can learn from the experience, the success and the mistakes of others, SarderTV provides a unique opportunity to see and hear influential personalities talk about the subjects that matter to them. Some of the past interviewees have included Ira Neimark, former CEO of Bergdorf Goodman, Susan Davis, CEO of BRAC USA, and Dan Hoffman, President and CEO of M5 Networks.
Don't miss this one of a kind interview with Robin Morgan at SarderTV.
SarderTV seeking additional leaders for interviews
SarderTV is also seeking leaders to interview and is targeting leaders from Fortune 500 companies, and exceptional public figures like Bill Clinton, Oprah Winfrey, Jim Collins, Bill Gates, Warren Buffet and many more. According to the National Venture Capital Association, more than 30 percent to $600 million this year has been invested in Web-based education. For investors seeking an opportunity to participate in a multimillion dollar idea SarderTV presents an excellent investment and is actively seeking investors. Several investors have already expressed an interest in this innovative idea. Investors interested in becoming a part of SarderTV are invited to get in touch as well, contact us at russellsarder(at)netcomlearning(dot)com.
About Sarder TV
SarderTV is a learning channel that contains a series of exclusive educational interview videos from top leaders in their industries, as well as motivational videos encouraging our public to succeed in their personal and professional lives, and many more. Russell Sarder, CEO of Sarder TV, has interviewed a series of leaders, who have shared their experiences and how they were able to achieve their success. Some of the names that Sarder has interviewed are: Ira Neimark, former CEO of Bergdorf Goodman; Russ Edelman, co-author of Nice Guys Can Get the Corner Office, Dan Hoffman, and David Hershfield, SVP Online Technology at RedCats.