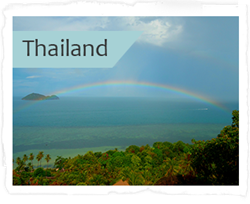 New York, New York (PRWEB) December 16, 2014
Drishti Yoga Teacher Training will be returning to Thailand for the second year in a row to conduct a International Yoga Teacher Training in Thailand and offers some tips on getting to the small island of Koh Phangan, 600 km south of Bangkok.
First things first, "Get your Visa!" says Carri Uranga. Some travelers to Thailand need one. A US Citizen staying for less than 30 days actually does not need a visa, but if you plan to travel in Thailand before or after the yoga teacher training you will need to get one.
"The sooner you get your visa, the sooner you can book your flight and get a better price," she continues.
"I suggest booking your flight at least one month in advance, especially during high season which is December - April," adds Sarah Walsh.
Book your flight in December or just after the new year to avoid last minute high prices. Your flight into Thailand will more than likely take you to Bangkok. There are a few different ways you can then get to Koh Phangan.
Taking a small domestic flight is the fastest, most efficient way to get to Koh Phangan. Take a flight from Bangkok to Koh Samui or Surat Thani on Bangkok Airways or Thai Airlines. Once at the airport buy a bus/ferry ticket combo. These can be obtained at the airport guest counter. You'll see the counter as you come off the plane. The friendly locals will guide you in the right direction.
Taking a bus is more time consuming, but less expensive. Buy a joint ticket from any travel agent in Bangkok available on Kao San Road. The bus leaves Bangkok at 18:00 and you will be on Koh Phangan by noon the following day. The bus is almost always available any time without a reservation. Via train is less popular, but also inexpensive. Buy a combo ticket from Bangkok train station (train/bus/ferry). The train leaves 2-3 times from Bangkok in the evening and you will be on Koh Phangan the following day. It is suggested to book the train 7 days in advance.
Drishti Yoga Teacher Training will bring its experience of 11 previous trainings in other exotic destinations as well its second year offering a training on the island of Koh Phangan in Thailand. Carri Uranga and Sarah Walsh have traveled extensively throughout the world for the last 20 years.
About Drishti Yoga Teacher Training
Discover the impact of intimate personal attention combined with focused training in exotic locations with Drishti Yoga Teacher Training. Combine your passion for Yoga and your love of travel to create a transformative experience on and off the mat.
Other Upcoming trainings will be held in Costa Rica from March 22- April 15, 2015 and Santorini, Greece July 8th – Aug 1, 2015. For detailed information on these trainings and to find how else Drishti is making a ripple effect in the Global Yoga Community visit us at drishtiyogateachertraining.com