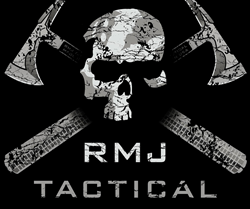 This is us saying 'thank you' to our customers. We wanted to do something special for them so they can get a more affordable RMJ Tactical tomahawk. We wanted to get tomahawks into the hands of people who might not be able to afford a more expensive one
Chattanooga, TN (PRWEB) December 15, 2014
Adding to their line of tactical tomahawks, RMJ Tactical recently launched a new tomahawk on Black Friday as a way of showing their appreciation for both new and existing customers.
"This is us saying 'thank you' to our customers. We wanted to do something special for them so they can get a more affordable RMJ Tactical tomahawk. We wanted to get tomahawks into the hands of people who might not be able to afford a more expensive one," Richard Carmack, Chief Operations Officer of RMJ Tactical said.
Only 200 -- 130 of which were released online on Black Friday -- of the exclusive Little Bird tactical tomahawk were made, each costing $250. Within the first 15 minutes of its online debut, 50 were ordered, with the remaining scheduled to be shipped in March of 2015.
"This is one of our biggest discounts ever. Once these are gone, they'll never be made again -- it's an exclusive offer to our new and existing customers," Carmack said.
Though the Little Bird is nearly half of the price of many of the tactical tomahawks RMJ Tactical features, it still remains a high-quality, versatile multi-purpose tool. The new design boasts a wide, Nordic-styled edge with a sharpened beard, leaving generous room behind the beard allowing the user to adjust their grip for more detailed tasks. In addition to being compact and lightweight, the Little Bird also features an ambidextrous, multi-carry scabbard, making it easy to deploy and re-sheath. This new design is best suited for woodcraft and outdoor activities, including camping.
Carmack believes the Little Bird is perfect for those who are new to tomahawks. "Not everyone can afford a $400 tomahawk or ax, so we decided to produce this multi-purpose beginner tomahawk for those who aren't able to make a big splurge. They aren't sacrificing quality by any means by ordering The Little Bird -- the tomahawk is made of the same material and attention to detail as our other tomahawks," Carmack said. RMJ Tactical is currently in the process of adding the finishing touches to the Little Bird tomahawk orders, as well as coordinating shipment logistics.
About RMJ Tactical
RMJ Tactical is a family-owned company that specializes in producing high-quality tactical tomahawks and knives, as well as accessories, apparel and jewelry. Their design process takes into consideration the special needs of a tomahawk user. To find out more about RMJ Tactical, visit rmjtactical.com