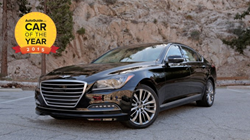 "Congratulations to the team at Hyundai," said AutoGuide Group Editorial Director Colum Wood, "but the real winner here is the consumer, with the Genesis costing many thousands less than its rivals."
(PRWEB) December 15, 2014
Today we are pleased to announce that the 2015 AutoGuide.com Car of the Year is the all-new Hyundai Genesis.
"The Genesis impressed us with high-quality interior materials, refined driving dynamics and dramatic exterior styling that elevates the Hyundai brand as a whole," said AutoGuide.com Managing Editor Luke Vandezande.
"More than a great car, the 2015 Genesis is a great luxury car," Vandezande continued.
One of five finalists chosen from the list of new or significantly refreshed 2015 model year vehicles, the Genesis beat the Volkswagen GTI, the Audi A3, the Subaru WRX STI and the Ford Mustang.
"Congratulations to the team at Hyundai," said AutoGuide Group Editorial Director Colum Wood, "but the real winner here is the consumer, with the Genesis costing many thousands less than its rivals."
An exceptional value, the AutoGuide.com editorial team loved the car's available 5.0-liter V8, but noted that you also don't need more than the V6, especially as all the car's impressive options are available no matter which engine you choose.
"The 2015 Hyundai Genesis is a car that traditional luxury buyers need to take a look at," said Wood, "and with styling like this, how can you not do a double-take?"
About AutoGuide.com
AutoGuide.com, a VerticalScope property, is a car shopping consumer resource site and flagship of the AutoGuide.com Group comprising over 400 vehicle and manufacturer online community websites. According to independent audience measurement agency, comScore Media Metrix, the AutoGuide.com Group ranks first in multi screen and mobile monthly audience size among all automotive resource websites.