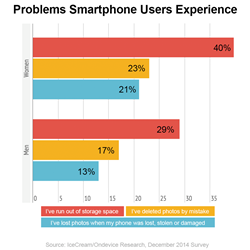 "91% of iPhone users have just 16GB or less of storage (Source: O2/Telefonica, sales of the last one million iPhones in the UK)
London, UK and San Francisco, CA (PRWEB) December 15, 2014
* Smartphone storage is a major issue *
IceCream / Ondevice Research surveyed 1,000 people in the USA and UK in December 2014 and gathered data from O2/Telefonica about the last one million iPhones they sold. The goal of the survey was to gauge the type and severity of problems users were experiencing with their camera and photo apps, and their smartphone's storage. This research discovered 45% of users are running out of storage every year; 22% are running out at least every month; and almost 10% run out of space daily.
It seems that photos are clearly the culprit: 40% of women run out of space specifically because they take too many photos. Of all the functions on the iPhone, it's the camera is the most personal, and it is also the main source of storage problems.
Data from Telefonica/O2 of last one million iPhones sold in the UK showed that 91% are either 8GB or 16GB. Data from the IceCream / Ondevice Research for US and UK users shows 76% as having 16GB or under (or not known). It seems like that amount is inadequate. Take the case of an 8GB iPhone model, with around 6.4GB of usable storage after the operating system is accounted for. With no other apps, music, email, notes or videos, it can hold 2,500 photos. But given that the typical user also needs space for email, games and music, the available space for photos is reduced to around 1000 shots. That's not a big number.
People experienced precisely this problem when iOS 8 was released. Apple required that people have 5GB of spare space to update, and a majority of users just didn't have that. They were forced to delete other apps, or photos, to free up the required space.
According to the research, 76% of the 600 million iPhone users own phones of 16GB and under. That equates to 456 million people who are experiencing significant problems on a regular basis.
"20% of people have deleted photos by mistake" (source: IceCream / Ondevice Research Study, December 2014)

Deleting photos is a hassle *
1 in 5 people have lost memories they wanted to keep according to the study. The default camera and photo apps currently make it too easy for people to make mistakes while managing their photos.
Photo burnout is a real phenomenon *
"1 in 6 people have no idea how many photos they have" (source: IceCream / Ondevice Research Study, December 2014)
The survey found that 41% of people have over 500 photos on their handset – quite a few, but not unusual. The data also said that one in six people have no idea how many photos they have on their phones. Could it be that people are taking too many photos? Are they becoming disengaged?
Nearly a quarter of people stated that they suffer from photo burnout because they'll never have the time to review all their photos. It doesn't come as a surprise that 23% of people who have deleted photos by mistake haven't backed up, either.
An October 2014 study published in PsychologicalScience (http://www.psychologicalscience.org/index.php/news/releases/no-pictures-please-taking-photos-may-impede-memory-of-museum-tour.html) revealed that the act of taking photographs has a memory impairment effect: if someone takes a photo of an object, they tend to remember less about that object than someone who just observes it.
The papers' author told Vice.com: "If you look at the photos later on, they'll serve as wonderful retrieval cues. But the truth is that we don't look at those photos." In other words: if people have a camera app that isn't delivering a great experience, people are not going to relive their memories. That is potentially cause for concern.
The global memory experiment *
Apple has given over 600 million iPhone users a way to record their joy of memories, the stuff that defines us as individuals. 52% of respondents said they wanted a better way to organise and review photos. Even people with fewer than 1,000 photos on their iPhone want to improve it: it's not just the outliers. The current generation is going to have every moment of their life stored and recorded somewhere.
What are people asking for? *
Users are saying that storage, organisation and sharing of photographs need to be improved. Over half of smartphone users want automatic photo back up. Despite the boom of basic, and usually free, cloud packages, 64% of users want more storage space. Even when people have over 64GB of storage, they still want more. In fact, when the study asked people how much more, they replied that 90% more would do.
60% of women want safer and more private ways to share photos. The study shows that the more photos people have, the more they share: 45% of people with over 5000 photos on their phone shared over 40 shots a week.
So here's why a better camera app will help *
The long-standing camera app isn't helping people out of their smartphone storage crisis. That's the goal of IceCream: it's a clever camera app that never runs out of space because it keeps beautiful, optimised photos on the phone for offline browsing – saving 90% of your storage space on the phone. The full-resolution shots are stored automatically on the IceCream cloud, ready to share instantly. Of course, there's a few more significant features that are being kept quiet about for now. The company's focus is to create a single, elegant solution that people want.
Join the debate and visit the "Why is my Smartphone Storage Full Again? Survey":
https://givemeicecream.typeform.com/to/W8SHfe
George Berkowski
Co-founder / CEO
IceCream
https://givemeicecream.com