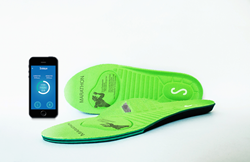 1 in 4 runners will experience a knee injury this year. We wanted to build a product that provided runners a better understanding of their knee injury risks. Stridalyzer is the only product that has the technology to do so.
San Francisco, CA (PRWEB) December 16, 2014
Invented by India-based ReTiSense, Stridalyzer is the world's first smart insole made specifically for runners, and can estimate, analyze and alert runners instantly about potential foot and, more uniquely, knee injuries.
Every year, about 65%-70% of all runners sustain injuries. Knee injuries account for 42% of all running injuries, which implies 1 in 4 runners will suffer knee injuries. Furthermore, 90% of Marathon trainers are prone to injuries.
Anshuman Singh, Co-Founder, says, "Knee injuries are extremely common in runners, but no data-driven method existed for runners to get an idea of whether, and how severely, they are at risk for knee injuries. With Stridalyzer, we hope to deliver that knowledge and awareness to runners, so they can make better decisions about their running form and strategy."
Stridalyzer uses a pair of sensor-connected insoles to collect data about the motion dynamics of a runner. The insoles that pair with a smartphone through BlueTooth LE, capture and send that data to the app on a regular basis. The app, working together with the cloud-based analytics, provides real-time guidance to the runner on the aspects of their run that might expose them to injury risk. After the run, users get a summarized performance as well as running form score, as well as detailed guidance on how to improve their form and performance on future runs.
Currently, at the 3rd revision of the prototype, Stridalyzer is live on Kickstarter starting 8th of December and has already raised upwards of $10,000 from 103 backers. The campaign hopes to seek user validation for their idea, and raise money for manufacturing the smart insoles. The early-bird reward offering a pair of Stridalyer insoles for $75 ran out on the 3rd day. Current backers can get hold of Stridalyzer for a $90 pledge.
About ReTiSense
ReTiSense is a young start up based in Bangalore, India. It was founded in June 2014 by Anshuman Singh and Shuvadeep Sarkar, who are avid runners for the last ten years and have a diverse experience in areas of System Design and Integration, Data analytics and Embedded Design. ReTiSense is built on the foundation of "intelligent sensing" technology, and using sensed data to provide meaningful, actionable guidance.
Stridalyzer is ReTiSense's first product geared exclusively for enthusiast runners, who want to understand and improve their running form, and prevent injuries.