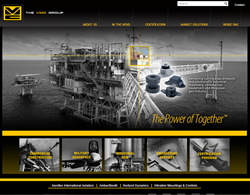 Bloomingdale, NJ (PRWEB) December 17, 2014
The VMC Group is pleased to announce the launch of the new industrial OEM section of their corporate website, http://www.thevmcgroup.com. The launch of this section follows closely behind the initial website launch in September of this year. Industrial OEM is one of four market sectors The VMC Group specializes in and this section's launch signifies the company's commitment to become an effective resource for engineering consultants, distributors and manufacturers in the industrial OEM industry.
"Since 1923 we have been engineering solutions to meet the demands of this diverse market," states John Wilson, Jr., CEO of The VMC Group. "The new industrial OEM portion of our website is specifically designed and dedicated to further our efforts in meeting the evolving needs of this industry. This site will serve as an informative tool for our customers; a place where they can access product information and technical drawings quickly and easily at all times."
Once on the site, visitors will find easy to navigate product information organized by categories. Additionally, they can then download and print additional information which may include tech notes and brochures for the product and technical drawings.
For nearly ten decades, The VMC Group has been recognized as a world leader in the design and manufacture of vibration isolation and seismic energy management technologies. The VMC Group and their Engineering Services Division have been providing IBC® Special Seismic Certification to Fortune 500 companies and manufacturers of HVAC, power generation and fire protection systems for more than 10 years.
For more information on The VMC Group products or The VMC Group's Engineering Services Division please visit http://www.thevmcgroup.com. For more information on The VMC Group's IBC Certification Services, please visit http://www.ibcapproval.com today or call 800-569-8423.