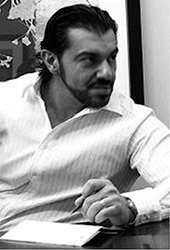 I'm the guy you call when you're an awesome trainer but a struggling businessperson.
Chino Hills, CA (PRWEB) December 17, 2014
The Fitness Business Summit is an annual gathering of fitness professionals from the national and international business communities. Industry leaders gather at this conference each year to attend and present lectures and lessons centering on the operation of fitness businesses. Attendance for the 2015 Summit is projected to reach over the 600 attendee mark.
Each year features one dozen presenters who bring reports and lessons from the most advanced sectors of fitness business innovation and development. This information is distributed among hundreds of entrepreneurs, business owners, and online marketers who work in the fitness industry and are looking for new strategies and methods to grow, improve, and expand their own businesses.
The event is hosted by fitness business and marketing expert, online marketing executive, and fitness franchise CEO, Bedros Keuilian. Bedros is well known in the industry as a highly sought after business coach, popular franchise owner, and online product marketer who helps hundreds of colleagues transform their lives and businesses.
Keuilian says he has made it his "life's purpose" to help other fitness professionals succeed in life and in business; and the Fitness Business Summit is the perfect demonstration of that purpose. The impetus behind the creation of this summit, as well as all the other work Keuilian produces to help fitness professionals, comes from what he identifies as the industry's biggest failing.
"Personal trainers and other professionals," says Keuilian as he explains his passion for helping colleagues, "spend years learning and honing the skills and knowledge that allow them to work as fantastic health and nutrition experts. But nowhere in formal fitness training does an individual learn the crucial skills needed to operate a profitable business."
Industry flaws just like these are precisely what he aims to remedy with ventures like the Fitness Business Summit. Keuilian explains that most fitness professions are, by definition, entrepreneurs and business owners. But, unfortunately, there aren't structured support systems designed to help them navigate these complicated systems.
"That's where I come in," says Keuilian, "I'm the guy you call when you're an awesome trainer but a struggling businessperson.
"The industry is changing," he says, "More and more personal trainers are struggling to make a living. Price erosion is at an all time high and fitness pros are working harder than ever only to make the same or less money than they used to. But the Fitness Business Summit is here precisely to fix that problem."
About Keuilian Inc.
Keuilian Inc. (est. 2007) was founded by fitness marketing and business consultant Bedros Keuilian, who has been named the "hidden genius" behind several of the biggest names in the fitness industry. In addition, he is also the founder of the popular fitness marketing blog, PTPower.com, and founder and CEO of the indoor fitness boot camp franchise, Fit Body Boot Camp.
To learn more about Bedros Keuilian and his fitness boot camp franchise, please visit: http://www.ptpower.com/ and http://www.myfitbodybootcamp.com/