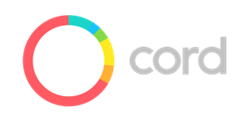 Cord represents the future of mobile messaging - easy, quick, text-less and voice-based -- and we're thrilled with the full app release across both mobile platforms - Kamran Ansari, Principal at Greycroft Partners
New York, NY (PRWEB) December 15, 2014
Cord Project Inc., a New York based startup founded by former Googlers Jeff Baxter and Thomas Gayno, announced today the official launch of their flagship app, Cord, on both Android and iOS. An early version was released on iOS in September, but the launch today introduces new features, languages and improvements to the platform.
Cord combines the best of asynchronous communication, an innovative user experience, and the emotional power of voice to create a truly new take on messaging. Cord reduces the friction of typical messaging apps by replacing threads of conversations with the faces of the people you talk to the most. The interface, optimized for voice, boils down to two simple gestures: tap to listen and hold to record.
"Cord is designed to feel at home on any device. The huge variety of hardware that Android opens up for us really lets Cord show its flexibility," said Cord Co-founder Jeff Baxter. "It's a super simple interface that works as well on a tiny three inch screen as it does on a tablet."
Among the many updates and improvements launching today is the ability to share Cord messages with anyone, anywhere, through a short link on the Web. This opens the door to sharing short voice messages on nearly any platform such as SMS, email, Twitter or Facebook. And with the official Android launch in 16 languages, Cord is now truly global. The app already draws two thirds of its user base from outside of the US, spread evenly across Europe and Asia where Android's penetration is particularly high.
"Having Cord available on both Android and iOS means that we're now officially launched," said Cord Project CEO Thomas Gayno. Today, no messaging service can thrive as an app that only works on one platform. When we want to talk to people, we don't want to worry about which OS they're using."
The next few months are particularly exciting for voice-centric applications given the upcoming launches of wearable technology such as the Apple Watch and more mature Android Wear devices. These new connected devices should be talked to, not typed on.
Cord Project Inc. is based in New York City where they're designing and building products to get people talking again.
Additional Quotes From Investors:
"I'm a big believer that voice is the next big thing in mobile. With the launch of Android, the Cord team is perfectly positioned to lead this movement," said Kenneth Lerer, Managing Partner at Lerer Hippeau Ventures.
"Cord represents the future of mobile messaging - easy, quick, text-less and voice-based -- and we're thrilled with the full app release across both mobile platforms," said Kamran Ansari, Principal at Greycroft Partners.
"We all want to communicate more, and Cord allows us to communicate better. By nature, voice adds more emotions and nuance to our messages. With its elegant interface and vision to expand on wearables, Cord is designed for the upcoming trends in communication," said Pierre Kosciusko-Morizet, CEO and Co-founder of PriceMinister (acquired by Rakuten).
"We always envisioned communication to be operating system agnostic so I'm thrilled about our Android launch. Android represents a huge opportunity for Cord and the future of communication with its unprecedented global growth and suite of wearables," said David Hirsch, Managing Partner of Metamorphic Ventures.
About Cord Project Inc.:
We're a small team of designers and engineers exploring how we communicate with today's and tomorrow's connected devices. We were founded in 2014 in New York City.
Our mission is to get people talking again. Voice is incredibly powerful and nothing can match the speed, emotion and nuance of a voice when it comes to simple communication. But somewhere along the way, voice was left out of how we 'talk' on our phones. So we're combining the power of voice with everything we love about messaging today to build something new. We're getting the technology out of the way to get people talking again.
About the founders:
Cord Project's founders, Thomas Gayno and Jeff Baxter previously worked together for five years at Google Creative Lab in New York where they invented new products, features, brands and experiences such as Google Glass, Android, Chrome, The Wilderness Downtown, Hangouts, Coder for Raspberry Pi, and YouTube Play. Building on years of experience in the technology, brand, and communication space, they left Google in April to build something new with Cord Project Inc.