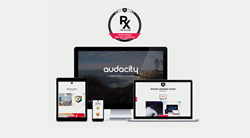 We're proud to see our team's hard work recognized at this level by some of the best creative minds in the healthcare space."
San Diego, CA (PRWEB) December 16, 2014
Audacity, a leading California-based health and science brand strategy and activation agency and member of the Huntsworth Health Group, is proud to announce it took home three awards at the 28th Annual Rx Club Show. The agency was honored with a Silver Award and two Awards of Excellence for its innovative and creative work in website design.
Since its inception in 1986, the Rx Club Awards has grown into a staple of the healthcare industry. The show is held annually to recognize the "best healthcare advertising the world has to offer" across approximately 40 categories including print, interactive and video. This year, over 100 leading agencies from across the globe submitted their work for consideration and to showcase their creative prowess.
"This is a high honor for our agency and our incredible team." Agency Chief and CEO Gaetan Fraikin. "Our unique way to combine strategy, science, art and technology in a range of transformative digital solutions is simply unmatched in the industry. We're proud to see our team's hard work recognized at this level by some of the best creative minds in the healthcare space."
Only 8 Gold and 14 Silver Awards were issued at this year's show, making Audacity one of the few agencies to be recognized at this prestigious level alongside FCB Health, McCann Torre Lazur, Ogilvy and Mather, Publicis Communications, and others.
To see a complete list of the winners, please visit the Rx Club official website.
For more information on the agency and to view Audacity's other award-winning work, visit: http://www.audacityhealth.com/#work.
About Audacity:
Based in San Diego, CA, Audacity builds health and science brand supremacy through disruptive branding and advertising. We combine strategy, art and technology in a range of transformative digital solutions. We simplify brands to the core. We push innovation to the edge and we connect brands — to drive revenue.
Our proprietary solutions help our clients successfully launch new brands, refresh or reinvent existing brands, reorganize brand portfolios and create and deploy campaigns that shift perceptions and behaviors in our clients' brands favor. Our branding capabilities extend all the way from the corporate level, to a division, to a product line down to a single product level.
As part of the Huntsworth Heath group of agencies, we deliver unmatched solutions to our client brands across the globe with 70+ locations in 30+ countries, we deliver an end-to-end solution across all market levels (research, KOLs, HCPs, clinicians and patients) and across all key stakeholders (marketing communications, investor relations and internal communications).
Press Contact:
Gaëtan Fraikin, Agency Chief/CEO, Audacity Health, LLC.
http://www.audacityhealth.com/
(858) 385-0664
pr(at)audacityhealth(dot)com