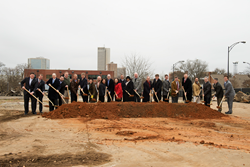 "Given its centralized location between the Heritage, East Park, and Colonel Elias Earle Districts, Main + Stone will function as a centerpiece that connects the historic neighborhoods of Greenville" - Alan McMahon, Development Manger, The Beach Company
Greenville, SC (PRWEB) December 16, 2014
Main + Stone LLC, an affiliate of The Beach Company, announces that construction has begun on Main + Stone, a multifamily rental community with 292 units and 20,880 square feet of complementary commercial space.
Mayor Knox White and City Council members Lillian Brock Flemming, David Sudduth, Amy Ryberg Doyle, and Gaye Sprague joined the The Beach Company for the Main + Stone groundbreaking, along with representatives from US Bank, Yeargin Potter Shackelford Construction, McMillan Pazden Smith Architects, and SeamonWhiteside Associates Engineering.
Main + Stone is located at the intersection of N. Main Street and E. Stone Avenue, less than a mile from both the center of downtown and Interstate 385, in the highly desirable North Main residential community. Alan McMahon, of Development Manager with The Beach Company said, "As one of the most sought after places to call home in all of Greenville, the North Main area encompasses several Historic Districts which lend the neighborhood its distinctive charm, with its craftsmen style architecture, mature landscapes, and sense of community. Given its centralized location between the Heritage, East Park, and Colonel Elias Earle Districts, Main + Stone will function as a centerpiece that connects the historic neighborhoods of Greenville with the growing downtown renaissance."
The general contractor for Main + Stone is Yeargin Potter Shackelford Construction, of Greenville, SC., with construction financing provided by US Bank. Construction is estimated to take eighteen months to complete, with the first phase of apartments expected to be available for occupancy in late 2015.
Designed by McMillan Pazdan Smith Architects of Greenville, SC, the upscale apartment community will offer residents the opportunity to choose a floor plan that meets their needs, from studio apartments to three bedroom flats and town homes. A complete amenity package including a resident clubroom, commercial quality fitness center and saltwater pool will be available to Main + Stone residents. Other unique amenities include urban gardens, pet spa, a covered parking garage, and onsite retail.
Prospective residents interested in learning more about apartment rental opportunities are invited to contact info(at)mainandstone(dot)com, or visit mainandstone.com to request more information.
Photo, Pictured left to right: Alan McMahon of The Beach Company; Paul Castino, Steve Windell, and Travis Stowers of US Bank; Tim Thompson of YPS Construction; Lynn Yeargin of YPS Construction; Darryl Reyna of The Beach Company; City Council Member Amy Ryberg Doyle; Joe Bryant of SeamonWhiteside, Lisa Lanni, and Anthony Tiberia of McMillan Pazdan Smith Architects; City Council Member Gaye Sprague; Sam Smith of YPS Construction; City Council Member Lillian Brock Flemming; Charles S. Way, Chairman of The Beach Company; Mayor Knox White; John Darby, CEO of The Beach Company; Dan Doyle of The Beach Company; Joe Pazden of McMillan Pazden Smith; City Council Member David Sudduth; Clint Rigsby of SeamonWhiteside; Phil Harvey of The Beach Company; Bill Connor of YPS Construction; and DJ Van Slambrook of The Beach Company.
About The Beach Company: Founded in 1945, The Beach Company has been a leader in residential and commercial real estate brokerage, development and property management for 70 years. Led by president and CEO John Darby, the company honors a tradition of responsibility and excellence in providing top quality real estate products and services for communities, businesses, industries, and most importantly families across the Charleston Lowcountry and the Southeast Region. For more information on The Beach Company, please visit http://www.TheBeachCompany.com
Contact:
The Beach Company
Karen Bacot, Director of Marketing
843-277-3093
kbacot(at)thebeachcompany(dot)com