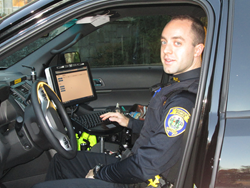 "The database is searchable and viewable from [computers at] police headquarters or in an officer's patrol car computer," said Fairfield University Professor Wook-Sung Yoo.
FAIRFIELD, Conn. (PRWEB) December 17, 2014
It was a mother's nightmare.
Two years ago, in the middle of the night, an autistic teenager was found by the Town of Fairfield Police Department; barefoot, soaking wet, unable to communicate, and with no form of identification.
Police officers spent hours trying to identify the young man with no success. He could not speak. In order to ensure his safety, he was transported to a local hospital and Fairfield Police were faced with no other option than to await a 911 call from the young man's family.
That frantic phone call came hours later when the teen's mother woke up and found her son missing. Ultimately, mother and son were reunited.
The incident, and others like it, has led to the creation of a new missing persons software tool that was developed by Fairfield Police with help from Fairfield University's School of Engineering. Called the 'SafeReturn Network,' it is a computer database where Fairfield residents may log information about loved ones with Autism, Dementia, Alzheimer's, and other individuals who may be prone to wandering. In addition, SafeReturn contains the necessary information that police need in case Amber or Silver Alerts need to be activated.
Fairfield Police Officer Michael C. Stahl, a Fairfield University alumnus, well remembers the troubling night that laid the groundwork for the tool. "It was at this time that I came to the realization that a program such as SafeReturn needed to be created and implemented in Fairfield," recalled Stahl, a 2010 graduate who majored in Communication and minored in Management.
Officer Stahl called his alma mater to make his idea a reality. Wook-Sung Yoo, Ph.D., chair of software engineering, was quick to offer his services.
Dr. Yoo, who has extensive experience in healthcare software, and two of his talented students jumped at the chance to help. Engineering graduate students Michael Marrero and Ebenezer Rodriquez Vidal made it their capstone project, an endeavor prior to their graduation.
The engineering team built a computer program – later named the SafeReturn Network - through which Fairfield residents may register photographs, contact information, and major details about family members they are worried about. Emergency personnel now have the ability to search that database using a variety of variables such as name, physical characteristics, and age.
In addition, in the event an officer encounters someone who is unable to communicate, the officer is able to open a gallery of photographs and filter those photos based on physical characteristics and subsequently match a photo with the person standing in front of them. The officer is then able to retrieve the individual's profile and emergency contact information.
"The system is deployed inside of the [Fairfield Police Department] Intranet server and all information submitted by an individual's caretaker is securely stored in a database made searchable and viewable in profile form either from police headquarters or in an officer's patrol car computer," said Dr. Yoo.
Officer Stahl said the Fairfield Police Department responds to almost 40,000 calls for services annually. As a result, officers often come in contact with individuals with special needs along with those suffering from memory impairing conditions. "[The SafeReturn Network] provides peace of mind to family and friends knowing that their local police have the tools necessary to locate their loved ones, should they wander from home, and reunite them," he noted.
SafeReturn registration forms are available at Fairfield Police Headquarters, located at 100 Reef Road, Fairfield, Connecticut, 06824, and online at http://www.fpdct.com/safereturn.
For more information, please contact the police department at 203-254-4800 or email mstahl(at)fairfieldct(dot)org.
Fairfield University is a Jesuit University, rooted in one of the world's oldest intellectual and spiritual traditions. More than 5,000 undergraduate and graduate students from 36 states, 47 foreign countries, the District of Columbia and Puerto Rico are enrolled in the University's five schools. In the spirit of rigorous and sympathetic inquiry into all dimensions of human experience, Fairfield welcomes students from diverse backgrounds to share ideas and engage in open conversations. The University is located in the heart of a region where the future takes shape, on a stunning campus on the Connecticut coast just an hour from New York City.