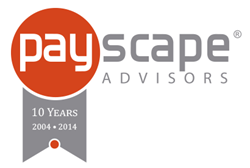 "It's mind-blowing to think in 10 years we have gone from working out of a small basement to a $10 million dollar company."
Atlanta, GA (PRWEB) December 17, 2014
In 2004, co-founders of Payscape Advisors, Adam Bloomston and Jeremy Wing, wanted to start a business that would change the payment industry. Ten years later, they are one of the leading full-service financial technology companies, with over 150 employees in 12 regional locations across the nation.
"It's mind-blowing to think in 10 years we have gone from working out of a small basement to a $10 million dollar company. We've learned over the years valuing and empowering your employees, and building solid relationships with your clients and partners is ultimately what grows your business. We are fortunate to have a great team of people surrounding us." says Jeremy Wing, Co-Founder and President of Payscape Advisors.
Despite a turbulent economy and the ever-changing payment services industry, Payscape has grown immensely. At first, they focused solely on credit card processing and have since added numerous verticals to build a full suite of integrated financial and SaaS technology products. They have purchased SaaS-based companies such as BillingOrchard, a provider of online invoicing software, and RegPoint Solutions, an online registration software. More recently, they have expanded into global payment processing in places such as Europe, the UK, Canada and Australia.
The company's growth has been recognized by many influential organizations across the nation such as PYMNTS.com, Finovate and The Technology Association of Georgia . They have also been named one of Inc. 500's Fastest Growing Private Companies in America for the last six years.
In addition, Payscape prides itself on giving back to it's employees and the community. They have been named one of Atlanta's "Best Places to Work" and "Top Workplaces" by numerous media and have implemented programs that reward employees who volunteer for charity.
About Payscape Advisors
Payscape Advisors is the leading integrated financial technology company dedicated to making it simple for business owners to collect money. We're a team of inspired entrepreneurs intent on disrupting the commoditized payment landscape with cutting-edge products and services, universal API integration, best-in-class customer service, strategic referral and technology partnerships and a lifelong devotion to helping small to mid-size business owners increase cash flow. Learn how to get paid quicker at http://www.payscape.com and stay tuned into industry updates @_Payscape.