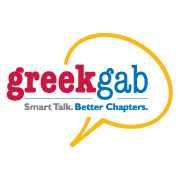 With over nine million members and 123 chapters, there is a need to talk about how to improve our communities.
Kansas City, Missouri (PRWEB) December 15, 2014
Given the intense issues including the sexual assault discussion on the University of Virginia campus, chapter management and a lack of information about the fraternity and sorority Greek system for parents, Kristin Wing has launched GreekGab.com, an online resource for parents, college kids, advisers and others who are looking for resources to help create a better fraternity and sorority experience.
"Fraternities and sororities, on many campuses, are at a turning point. Not only do chapter members need help, but also parents need resources about the questions to ask when their son or daughter decides to look at joining a sorority or fraternity," explains Wing. "With over nine million members and 123 chapters on college campuses, there is a need to create a place to share smart talk about how to improve our communities, which, frankly, is needed."
Wing's background includes serving on advisory boards and house corporation boards for both sororities and fraternities. She recently completed a five year commitment to Sigma Alpha Epsilon, at the University of Kansas, to help turnaround the chapter following the death of Jason Wren in 2009. The chapter dwindled from 55 members to 13. Working alongside SAE alums, KU administration, chapter members and other board volunteers Kristin and her team hired new staff, worked with chapter members and rebuilt relationships with the University of Kansas, and the Greek and Lawrence, Kansas communities. In 2012, the chapter house underwent a major remodeling and now houses 70+ members.
Kristin also leads workshops and presentations on chapter management, sexual assault prevention and other topics. She also serves on the Sigma Alpha Epsilon task force which is charged with developing a national strategy for helping educate chapter members about sexual assault, alcohol and other risks.
She has received numerous awards including:

Cable Award – Delta Gamma
Outstanding Alumna Service Award – University of Kansas
Pebbles Norris Award – Greater Kansas City Delta Gamma Alumnae Association
Outstanding Chapter Advisor Award – Sigma Alpha Epsilon, University of Kansas
Order of the Violet – Sigma Alpha Epsilon, University of Kansas
Greek Standards Committee – University of Kansas
Kristin is a graduate of the University of Iowa where she served as house manager for her Delta Gamma chapter. She holds a Bachelor of Science in Communications and Theater Arts from the University of Iowa and a Master of Arts degree in Marketing/Communications from Webster University. She is also on the board of the Women's Foundation of Greater Kansas City. She lives in Leawood, Kansas.