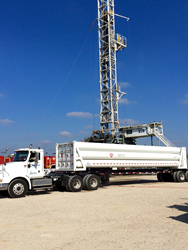 Kyle Lehne, Sun Coast Resources, Inc.'s Vice President of Sales and Marketing, announced that "our company now offers transportation services for Compressed Natural Gas (CNG)."
Houston, Texas (PRWEB) December 17, 2014
For Immediate Release
Sun Coast Resources, Inc. is now in its infancy stage of hauling Compressed Natural Gas (CNG), and as the market is growing, Sun Coast is developing experience with CNG. Kyle Lehne, Sun Coast Resources, Inc.'s Vice President of Sales and Marketing, announced that "our company now offers transportation services for Compressed Natural Gas (CNG)." "The demand for CNG is increasing due to very competitive pricing, coupled with a number of notable benefits associated with the use of this environmentally-friendly fuel source," Lehne continued. Production of shale gas is at an all-time high in the United States, and there is a growing number of CNG vehicles being manufactured, including light-duty vehicles, public transport buses, medium/heavy duty trucks, locomotives, and others. In addition, drillers in the oil patch have begun to use CNG to fuel their equipment. CNG can be used in gasoline, diesel fuel and propane powered engines with very minor modifications. The use of CNG in North America has existed for over two decades to a very limited degree, but is beginning to gain traction.
Sun Coast Resources, Inc. is now accepting CNG business opportunities and encourage companies to contact them.
About Sun Coast Resources, Inc.
Operating from its headquarters in Houston, Texas, and with 18 offices conveniently located near high demand centers in Texas, Louisiana and Oklahoma, Sun Coast supplies over half a billion gallons of fuel and lubricants to thousands of enterprises annually, and is noted nationally for its sales of high quality petroleum products and award winning emergency fuel response activities, and crude transportation services.
Recent accolades include recognition as one of the fastest-growing privately-held companies in the nation by Inc. Magazine; one of the top places to work by the Houston Business Journal and Houston Chronicle; winner of the Southwest Bulk Trucking Company of the Year Award at the 2013 Southwest Oil & Gas Awards; the 9th largest privately-held company in Houston for 2014 by the Houston Chronicle; and as winner of the Gulf Coast Trucking Company of the Year Award at the 2014 Southwest Oil & Gas Awards.
For more information, please visit the company's website at http://www.suncoastresources.com or call 800-677-FUEL (3537).