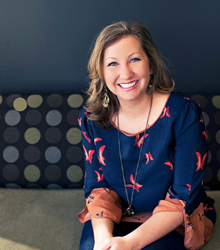 We know Amy will flourish as an IFEC Board Member. Both deep and the IFEC are lucky to have her."
Springfield, Mo. (PRWEB) December 16, 2014
The advertising agency deep congratulates Amy Rosendahl, its public relations and social media manager, on her recent election to the International Foodservice Editor Council (IFEC) Board of Directors. Rosendahl has been an active member of the IFEC for six years and is looking forward to accepting a larger role with the organization during her time as a board member. The appointment stands to increase Rosendahl's already-extensive industry insight, leaving her poised to further establish deep as a leader in foodservice marketing.
Rosendahl has an impressive history of earning successful results for clients in the food industry. Before joining the foodservice advertising agency deep in 2012, she managed national PR programs for high-profile clients such as The Food Channel, Sam's Club, Smucker's Foodservice and numerous other brands. Her work made measurable impacts for these brands; for example, Rosendahl led campaigns for The Food Channel that resulted in 170 percent growth in new Facebook followers.
Currently, Rosendahl works in Seattle, leading public relations efforts for deep and its clients. "We are so proud of Amy for earning a seat on the IFEC Board of Directors," said deep partner Valeri Lea. She added, "this is a great achievement for Amy, and she can continue to develop her foodservice marketing expertise, which will obviously benefit our clients."
While Rosendahl's position on the IFEC board will further benefit deep clients, her experience and previous success helping compose persuasive advertising strategies for those clients had much to do with earning a seat on the board. "Amy has a wealth of experience in PR communications, social media and media relations, and implementing her strategies has had an enormous effect on our clients' exposure," says deep Partner, Creative Director Dan Stewart. "We're thrilled for Amy and know that she'll flourish with this great opportunity. Both deep and the IFEC are lucky to have her."
The 250-member IFEC is a professional association of foodservice editors, public relations specialists and marketing experts who have developed a platform to exchange ideas, share resources and explore culinary trends. Founded in 1956, IFEC has had a long history of improving professional and aesthetic standards in the food marketing industry.
Discussing the opportunity to work with her fellow board members and the rest of the IFEC, Rosendahl said, "I look forward to collaborating with key industry influencers in the IFEC. I have already benefitted so much from this organization, and I'm honored and excited for the chance to contribute as a member of its leadership."
deep
Founded in 2005, deep is a renowned food-branding agency that creates successful business-to-business and direct-to-consumer advertising campaigns across the United States and around the world. Deep is part of the Marlin Network, which represents over 70 food and beverage brands. The Network also consists of FoodIQ, STARAwards, The Alchemedia Project, Marlin and Marlin Network Consulting. Based out of Springfield, Mo., Marlin Network is the number one purchaser of foodservice media and was listed in Inc. Magazine's list of America's Fastest Growing Companies in 2010, 2011, 2012 and 2013. To learn more about deep, visit deepgroup.com or follow the agency on Twitter, Facebook, Pinterest, Instagram and the b!eep blog.