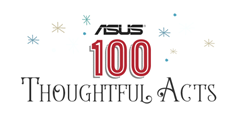 San Juan Capistrano, California (PRWEB) December 16, 2014
Global technology leader, ASUS Computer Corporation has teamed up with MoreYellow, Inc. to launch a philanthropic movement this holiday season called "100 Thoughtful Acts". Fans are challenged to share a picture of themselves performing an act of kindness from the list of 100 thoughtful acts.
Within the first week, #100thoughtfulacts trended twice on Twitter. The campaigns early success has been lead by the support of six amazing social media stars; four of which are considered by Forbes as the most influential people on social media. This includes country music personality Jessica Northey (@JessicaNorthey, 603k), social media entrepreneur Ann Tran (@AnnTran_, 434k) as well as tech news resource Techno Buffalo (@TechnoBuffalo, 273k followers).
Jordan Mauriello, founder of MoreYellow, Inc. is excited to see the campaign making an impact. "The partnership between ASUS and MoreYellow for this digital campaign has been a real pleasure. It's rare to find a brand who's business objectives are as important as their interests in doing good for others. We need more of that."
To incentivize fans to participate, ASUS is giving away an ASUS Transformer Notebook each week to the top five fans that receive the most votes for their thoughtful acts. The campaign ends December 22nd with a grand prize of a Transformer Book T100, ASUS Zenwatch, Memopad and an ASUS vector backpack.
For more information on 100 Thoughtful Acts, please visit: http://www.100thoughtfulacts.com and help spread the holiday spirit.
Media Images: http://moreyellow.com/transfer/ASUS/media_assets/index.html
Media contact:
Charlotte Hutton
MoreYellow
Phone: +1 949-481-4552
Email: charlotte(at)moreyellow(dot)com
About MoreYellow: MoreYellow is a digital campaign agency specializing in the telling of brand stories through digital channels. Our approach is to keep top talent focused on a more granular view of engagement so as to provide quick-fire changes to boost campaign performance. MoreYellow uses a quarterly based model that provides a platform for four campaign service areas: initial strategy, creative execution, launch support and providing insight for future endeavors. Founded in 2005, and headquartered in San Juan Capistrano, Calif., MoreYellow respectively leads their category through progressive concept development and campaign management. For more information, visit http://www.moreyellow.com.