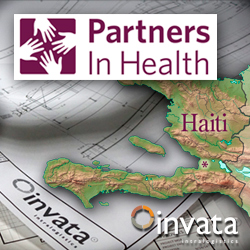 We chose Invata because of their expertise in organizing and implementing pharmaceutical and medical distribution facilities.
Conshohocken, PA (PRWEB) December 16, 2014
Invata Intralogistics Inc., specialists in distribution center design, and Partners In Health, an international social justice organization whose mission is providing health care for the poor, jointly announced today that they are collaborating in building a distribution center to serve the people of Haiti.
Partners in Health has identified the need to expand and modernize their distribution of medical aid to the Haitian people and has asked Invata Intralogistics to lend their expertise in helping them achieve this goal. The existing warehouse that serves as the Partners in Health distribution center in Haiti no longer satisfies increasing demand for the distribution of medical aid.
The new distribution center will expand the footprint of the existing operation several times, while also increasing the height available for vertical storage of goods. It will include expanded capacity for ambient storage, while also incorporating temperature controlled storage to protect medical supplies from the Caribbean heat. The new facility will incorporate mezzanines for offices, a multilevel pick area, multilevel storage racks, and modern dock facilities for receiving containers and facilitating local deliveries.
"Partners In Health needed to transform our operation in Haiti from a warehouse focused on storage into a distribution center focused on delivering aid," said Doug Crossley of Partners In Health. "We chose Invata to help us with the design, not just because they are generously donating their time, but because of their expertise in organizing and implementing pharmaceutical and medical distribution facilities."
"I'm very happy we can help Partners In Health deliver on their mission and in some small way help the people of Haiti," said Jay Moris of Invata. "We believe we have designed a system that addresses all the challenges inherent to setting up a medical distribution center in the country of Haiti."
About Invata Intralogistics
Invata Intralogistics, Inc. is an authority in the design, implementation, and life cycle support of automated fulfillment and distribution center operations with demonstrable expertise in conveyor systems, sortation systems, automated storage and retrieval systems, and all types of warehouse automation systems.
Specializing in the symbiotic integration of the flow of information with the flow of material goods, Invata offers complete solutions that begin with in-depth operational analysis and end with purpose-built, turnkey intralogistics systems that optimize processes and resource utilization while maximizing operational efficiency.
The result is a seamless synthesis of process and technology that engenders leaner, more productive, more adaptable, and more profitable fulfillment and distribution enterprises.
About Partners in Health
To learn more about Partners In Health and how you may be able to help, please visit the Partners in Health website.