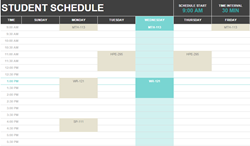 It's so much easier to plan, track, and complete your New Year's resolutions when you have the tools.
(PRWEB) December 15, 2014
The preparation for the New Year is underway as people contemplate their resolutions and goals for 2015. The days leading up to December 31st are busied with purchasing and arranging goods to make the transition to one's determination-filled year a smooth ride.
This month, TemplateHaven.com is debuting new downloads to ease the stress and cost of finding ways to prep for and plan out 2015. Their collection of calendar, task list, and budgeting tool templates has been expanded to include 2015 versions.
"The New Year is always a time when people really work to organize themselves," said TemplateHaven spokesperson Mary Flynn. "The first step people usually take is to get a new calendar to help schedule and plan their goals for the year."
In the 2015 collection of templates, multiple calendars are available to users to suit their needs. Academic, business, and personal calendar templates are among the additions to the website's vast collection. The new templates range from simple, printable calendars to elaborate templates made for completely customizable goals.
"It's so much easier to plan, track, and complete your New Year's resolutions when you have the tools to do it right on your phone, tablet, or computer," said Flynn. "We make these templates available at no charge to every visitor so that anyone can complete their goals that much easier."
TemplateHaven offers a large collection of tools and templates, many of which are part of Microsoft Products and can be used in Microsoft Suite. All items can be fully accessed by visitors with no sign up requirement and no charge.
"This year, we have more specific calendars and tools, too," said Flynn. "Garden planning, grocery budgeting, and plenty of business and academic templates have been added for 2015 to suit more personalized goals."
To view and download 2015 calendar templates and hundreds of other Microsoft tools visit TemplateHaven.com today.