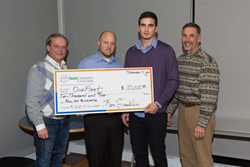 In TechCelerator Boot Camp, I learned exactly what I need to do to start my business; it's really valuable to be surrounded by peers who are on the same journey.
State College, Pennsylvania (PRWEB) December 16, 2014
Ben Franklin TechCelerator at State College awarded startup company OurFleet $10,000 for winning its business concept competition held Tuesday, December 9, 2014, at Innovation Park at Penn State. Six companies competed to win the award for most viable business concept.
"The judges saw the commitment and enthusiasm for the project winner," says Don McCandless, director of business development for Ben Franklin Transformation Services. "OurFleet intends to initiate a pilot project with a strategic partner in the next few weeks."
OurFleet developed a mobile application to help oil and gas exploration and production companies manage resource delivery traffic on their worksites. "I was extremely surprised to win against that competition," says OurFleet founder Doug Carnahan. "There were incredibly high-tech concepts there."
OurFleet aims to be the first traffic management system that allows complete traffic management of resource deliveries to worksites, operating much like an "air traffic control" system. The application reduces wait times for the large number of trucks delivering water, sand and pipe to drilling sites. OurFleet estimates more than 7,000 trucks visit a site in a 30-day busy period and that its application could save companies up to $20,000 per day by managing deliveries and reducing wait times. The application, which requires no hardware installation, is expected to be available for purchase May of 2015.
Carnahan, who works on a frack in Pennsylvania, developed the OurFleet concept after he risked truck accidents numerous times. "I'd round a bend and there would be a truck; we'd both slam on our brakes," Carnahan explains. Traffic congestion is a common problem on sites, necessitating the need for guard shacks to assist with traffic management. He worked with business partner Martin Flynn to develop GPS programming and tracking. A co-worker encouraged Carnahan to contact Ben Franklin Technology Partners for help bringing his concept to market.
Ben Franklin TechCelerator at State College works closely with numerous business development organizations in the State College area, including Innovation Park at Penn State, Penn State Technology Transfer, the Chamber of Business and Industry of Centre County and others. The group of organizations works to provide a healthy and supportive ecosystem for entrepreneurship and to accelerate new business development. Carnahan came to Ben Franklin in June 2014. He already completed the 10-week Techcelerator Boot Camp, fleshed out his concept and business plan, and believes he has secured a client for his first installation. Through the TechCelerator, Carnahan worked with a variety of local entrepreneurs and business individuals, in addition to reading books, taking online courses, preparing presentations, calling potential customers and talking to fellow entrepreneurs. "In TechCelerator Boot Camp, I learned exactly what I need to do," says Carnahan who is a big fan of the program. "And it's really valuable to be surrounded by peers who are on the same journey." When asked how he'll spend the money, Carnahan says that he'll stick to his development plan and use it to stay within his existing budget projections, just as he was taught in TechCelerator Boot Camp.
Five other startup companies competed for the $10,000 TechCelerator award:

Ares Drones developed a consumer-use drone that uses a mobile application for automated flight control. http://www.Aresdrones.com
BlueSpin developed a zero- and low-field electrically detected magnetic resonance (EDMR) spectrometer which enables the detection of atomic scale defects in fully processed nano- and microelectronics. http://www.BlueSpinLLC.com
deZEN Technologies developed advanced speech recognition technology.
HICO Tech developed high capacity, high power density Si anode material for Li-ion batteries.
Digital Measurement Partners developed an online platform for education and mental health professionals to score and interpret measures of child and adolescent functioning.
For more information about OurFleet (http://www.ourfleet.com), Ben Franklin Techcelerator or Innovation Park at Penn State, please contact Nena Ellis Koschny at nena(at)affinityconnection(dot)com or 814.207.2354.
# # #
About Innovation Park
Innovation Park at Penn State is a 118-acre technology park that provides office, manufacturing and research space for commercial use near Penn State University, one of the premiere research institutions in the world. The park offers unique business development value to startup companies and tenants, including established relationships with Penn State University Technology Transfer, Ben Franklin Techcelerator, the Centre County Chamber of Business and Industry and local and regional entrepreneurs and investors. In addition to business development support, Innovation Park offers tenants extensive networking and park programs through its coolBLUE program for tenant employee engagement, as well as access to indoor and outdoor fitness and recreation and an onsite daycare. Innovation Park at Penn State will have 82,000 square feet of new leasable space available August 2015.