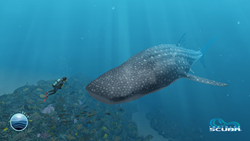 "Experiencing the beauty, mystery, and fragility of the ocean in such a hands-on way will inspire the people who play the game to protect our planet's blue heart." Dr. Sylvia Earle
Redmond WA (PRWEB) December 16, 2014
Cascade Game Foundry (CGF) is thrilled to announce two exciting additions to their Infinite Scuba game: a new Dr. Sylvia Earle avatar and a new Belize dive site.
Dr. Earle, called "Her Deepness" by the New Yorker and the New York Times, is a legendary oceanographer, environmentalist, National Geographic Explorer-in-Residence, and founder of Mission Blue, a global initiative dedicated to raising public awareness of critical marine issues.
"Mission Blue is delighted to partner with Cascade Game Foundry on Infinite Scuba," says Dr. Earle. "Experiencing the beauty, mystery, and fragility of the ocean in such a hands-on way will inspire the people who play the game to protect our planet's blue heart."
"It is a true honor to include Dr. Earle as part of our diving game experience," says Kathie Flood, Managing Director and Co-Founder of Cascade Game Foundry. "Her endeavors as an ocean explorer and conservationist inspired the creation of Infinite Scuba and will allow our players to experience the ocean's beauty and the cause of preservation on a whole new level."
In support of Dr. Earle's efforts, CGF will donate one dollar to Mission Blue for every copy of Infinite Scuba sold.
Dr. Earle specifically chose the new dive site, Glover's Reef, located in Belize and part of the Mesoamerican Reef. "We asked Dr. Earle to select our next location, and she chose Glover's Reef because she loves to swim with whale sharks," says Flood.
The Mesoamerican Reef is the second of Mission Blue's "Hope Spots" to be faithfully recreated by the CGF team. It's a region that lies within the Caribbean, extending from Isla Contoy on the north of the Yucatan Peninsula to the Bay Islands of Honduras. It is the world's second longest barrier reef and home to over 350 species of mollusk and 500 species of fish, including the whale shark — the largest fish in the world.
"The Belize dive site showcases new marine life, new activities like reef cleanup and tagging invasive species, and a new environment with dramatic depth changes and significant tidal surge," Flood adds. "It's definitely a contrast to the World War II shipwreck featured in our first site, Chuuk Lagoon in Micronesia."
Infinite Scuba offers players age eight and up relaxing and realistic adventures as they explore dive sites, identify wildlife, take photos, and find artifacts while learning about local history and dive science. Dr. Earle's new avatar, wearing SCUBAPRO® gear and her signature ruby flippers, will be available for free when players download the new game update. The Belize dive site, a separate add-on that also includes Dr. Earle's avatar, will be released simultaneously.
The new site and avatar are examples of Cascade Game Foundry's commitment to continually releasing new activities and interactive content for Infinite Scuba. Players can already customize their avatars by purchasing new wetsuits, fins, masks, air tanks, and other branded dive gear. CGF works with more than 20 manufacturers to recreate their equipment in the game, including SCUBAPRO®, Body Glove, BARE, Oceanic, Cressi, SeaLife, Underwater Kinetics, Henderson, Waterproof, SUBGEAR®, and XS Scuba.
Infinite Scuba was a finalist in the prestigious Game Connection America Selected Project 2014. Infinite Scuba is part of the Sea Monsters Revealed: Aquatic Bodies exhibit, currently showing at the Georgia Aquarium in Atlanta. Sea Monsters Revealed: Aquatic Bodies was created by BASE Entertainment, the creators of the well-known Bodies exhibit.
Infinite Scuba is available for Windows and Mac download at https://www.infinitescuba.com
About Cascade Game Foundry
Cascade Game Foundry, Corp. (CGF) is a Seattle-based video-game company composed of entertainment simulation experts from the former Aces Studio at Microsoft, one of the most critically acclaimed and most profitable studios in the history of the video-game industry. The team's unrivaled expertise and passion for simulations and entertainment software enables them to provide breathtakingly accurate simulations for hardcore audiences, as well as compelling exploration gameplay for casual audiences.
Cascade Game Foundry builds products that enable people of all ages and ability levels to explore the world from home. For more information about Cascade Game Foundry, please visit http://www.cascadegamefoundry.com.
About Dr. Sylvia A. Earle
Named a "Living Legend" by the Library of Congress and the first "Hero for the Planet" by Time Magazine, Dr. Sylvia Earle has led more than 100 expeditions as an oceanographer and explorer, authored 180 publications, lectured in 80 countries, and has spent the equivalent of a year of her life underwater. She is Explorer in Residence of the National Geographic Society, Leader of the Sustainable Seas Expeditions, Council Chair for the Harte Research Institute, Founder of Mission Blue and the SEAlliance, and formerly the Chief Scientist of NOAA. She has founded three companies, is a Founding Ocean Elder, an IUCN Patron of Nature and has served on various corporate and non-profit boards including Kerr-McGee, Dresser Industries, Oryx Energy, WWF US and International, Aspen Institute, Conservation International and the Woods Hole Oceanographic Institution. A graduate of St. Petersburg College and Florida State University with an MA and PhD from Duke University, she has 22 honorary doctorates and more than 100 national and international awards including the 2009 TED Prize, the Netherlands Order of the Golden Ark, the Academy of Achievement and in 2011 the Dominican Republic's Medal of Honor, the Royal Geographical Society's Patron's Medal, and Australia's SIMS Green Leadership Award.
Netflix recently released Mission Blue, a feature-length documentary film about Dr. Earle's campaign to create a global network of protected marine sanctuaries that she calls "Hope Spots." The film vividly portrays the importance of preserving the world's oceans and chronicles the life and work of Dr. Earle herself. Mission Blue is on many critics' short lists for an Oscar nomination in the Documentary category, and it has received many positive reviews, including:

The Hollywood Reporter: "While the science behind Earle's conservation project is fascinating, it's her natural charisma and infectious enthusiasm that are most compelling onscreen."
The Village Voice: "Earle and her oceanographer colleague at the Smithsonian Institute, Jeremy Jackson, are both scientists with unusual abilities to speak not just in understandable terms but also in eloquent ones. And it helps, too, that the music, images, storytelling, and editing are all so tight, and so enjoyable."
Infinite Scuba® is a registered trademark or service mark of Cascade Game Foundry, Corp. All Rights Reserved.