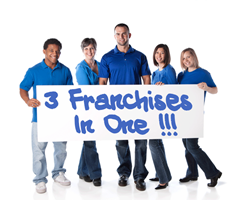 The GoToCrew is uniquely positioned to excite every level of investor interested in long term success
(PRWEB) December 17, 2014
Under agreement with Master Franchise Specialist (MFS), a franchise brokerage firm, The Go To Crew (TGTC) announces a Master Franchise offering geared to savvy investors. The objective of the offering is to interest investors who desire an incentivized financial structure that rewards them with the prospect of an early break even and profitable ongoing royalties.
Tom Fenig, Franchise Development Manager, of TGTC, who founded and then sold both franchise systems, Outdoor Lighting Perspectives and Mosquito Squad, believes in the revenue potential for brokers who are earnest and willing to get behind an emerging franchise.
"The concept is solid and offers multiple revenue streams for the franchisee, with a low barrier of entry and consumer profile of services ranging from window and gutter cleaning, power and deck washing to LED architectural outdoor lighting. This creates a win-win for all and makes absolute sense for the broker who can highlight the advantages of not just being a single concept franchise," says Fenig.
Supplementing the traditional method of offering a single territory, MFS and TGTC envision strong growth and inquiry, given the number of available high density regions nationwide. In addition, the home services market continues to grow on each end of the consumer age and demographic continuum. Aging baby boomers and new home-owners are both in the market for services such as window cleaning, pressure washing, gutter and dryer vent cleaning, and led outdoor lighting installations and upgrades.
An experienced Franchisor, with 35+ years to his credit, Ken Visokey knows an enticing opportunity when it presents itself. Ken is the CEO and Founder of MASTER FRANCHISE SPECIALISTS. Additionally, as a management consultant, Ken has a keen understanding of what it takes to provide guidance, leadership and advice to encourage the best performances of those involved in both emerging and established Franchise Systems.
"The GoToCrew is uniquely positioned to excite every level of investor interested in long term success in the home services franchise arena! Their Master program is ideal for empire builders/ virtual partners because of the 2 levels of investment ( Gold starts at $99,500) and is the lowest priced in the US today. The Platinum Program at $179,000 is designed for fast ROI and long term residual income," says Ken Visokey. Ken also suggests everyone "DARE TO COMPARE" this "SHINE BY DAY AND SHINE BY NIGHT OPPORTUNITY."
All told, Ken continues to impact all facets of the franchising continuum and takes great pride in his ability to communicate and work with over 1000 franchise consultants and brokers who are self-employed and value his insight.
Tom Fenig (TGTC) has been a franchisor 3 separate times and founded, built and sold 2 of these franchise systems. He also has been on the other side of the proverbial fence as a franchisee. On each of these occasions he sold the franchise units for far more than his initial investment. To say he has thought of it, done it, built it and sold it in the world of franchising is an understatement. Fenig resides near Beaufort, SC with his wife, two dogs and two cats. He graduated with honors from Virginia Tech and spent 16 years in various corporate sales and management positions prior to starting his franchise systems.