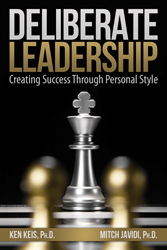 Deliberate Leadership captures the depths of what each of us must learn about ourselves and others, so that we can model and lead from our Body, Mind & Soul connection.
Abbotsford, BC (PRWEB) December 15, 2014
It does not matter if it is the CEO of a Fortune 500 company, Law Enforcement or Military Officer, Small Business Owner, University Dean, Volunteer Leader, Pastor, Shift Supervisor, Student or Parent - the principles and strategies in Deliberate Leadership apply to everyone who wants to lead self and others more effectively.
Just some of what readers will learn:

The impact and implications of leadership style
The two main reasons why leaders fail
The three skills that every leader must have to succeed
How to deliberately influence and inspire others
New definitions of Extroversion and Introversion
Why playing to personal strengths is essential
How to immediately increase employee engagement
A system to optimize team and organizational performance
Deliberateleadershiponline.com
Authors Ken Keis, Ph.D., and Mitch Javidi, Ph.D., together have over 50 years of experience in leadership and personal, professional, and organizational development. They have put all their wisdom into Deliberate Leadership to help transform individuals to become purposeful, intentional, authentic, and inspiring leaders. The practical knowledge in this book will not only enhance their leadership of others, it will also enrich their own self-management and self-mastery.
About CRG
CRG Consulting Resource Group International, Inc. has helped improve the lives of millions of people and increase the performance of thousands of organizations worldwide since 1979. CRG is a full service business consulting, executive coaching, speaking, training, and customized solutions (instructional design) firm. CRG bases their work on a Comprehensive Holistic Development Model that enables them to implement a congruent approach in all facets of your engagement. On April 10, 2014, CRG was presented with a Leadership 500 Excellence Award by HR.com in the category of International Leadership Partners and Providers.